How different departments can use ScreenSteps in your company
You've been a pioneer of using ScreenSteps in your company. Now, everyone is noticing your success.
And your success has piqued their curiosity.
Maybe your co-workers are asking you questions about how you've decreased the amount of time spent training or how your employees cut back on mistakes.
You want to help out your company by continuing to add value and also want job security for yourself. So you don't want to refer your colleagues in other departments to something that might not be the right fit for them.
While ScreenSteps isn't the right solution for every department in every company, we have helped different departments find success through simplified documentation and training.
We'll show you what signs a department might have that suggest they need ScreenSteps. Then we'll help you determine where ScreenSteps can help these different departments.
That way, you can recommend ScreenSteps confidently to your colleagues. (And maybe even become an office hero, we're just sayin'.)
4 signs a department could use ScreenSteps' help
When your co-workers talk to you, they typically will explain the struggles their department is facing.
The beauty of collaboration between departments is that you're able to lay out the issues. Then, using your unique experiences, you can combine your expertise to find solutions.
If you hear about the below problems throughout your company, these are great indicators that you could recommend ScreenSteps as a potential solution.
1. Communication is an issue
Part of living in a modern age is that technology is always evolving. That means procedures regularly need to be updated. And those changes need to be communicated to your team.
With many announcements and changes, communication needs to be immediate. That way you can implement changes in a timely manner.
Often, companies will send out emails to inform employees about changes. But overcrowded inboxes make it easy to miss these important messages.
At the very least, it takes time for employees to see these emails. They continue to follow the wrong procedure until they run across the email.
2. No centralized location for resources
While your company might have documents of procedures and policies, there is no centralized location for these resources.
These documents are scattered everywhere. They could be on a shared drive, in email inboxes, or across various employees' desktops.
When an employee is searching for an answer, they have to remember where that answer is stored, which typically means a lot of wasted time spent searching.
They are stuck in a perpetual game of hide-and-seek when they'd much rather be getting the task done.
You want your documents in sight. Or, at least, you want your employees to know where to find the right guides without having to play a guessing game.
3. Employees have a collection of documents open at all times
Your company stores information in PDFs, Word documents, and printed handouts. They may also use a variety of different website landing pages to complete various tasks.
Since it is difficult to find where the appropriate resources are located, employees keep multiple documents open at all times.
Even by having these documents and web pages open, employees still have to guess where the right information is located.
📽️ Watch Related: A quick ScreenSteps demonstration
The only way for your employees to know if they've found the right document is by constantly opening and closing documents to check. It wastes a lot of time waiting for documents to load.
Consider it a game of Where's Waldo for your critical documents. Looking for a character with a red and white striped shirt is fun for an iSpy book, but it's not exactly ideal for a businesses' organization system.
Employees should have a direct line to their answers without having to click around only to find out that their "Waldo" is actually hanging out in a different corner on their desktop.
4. Creating documents takes a long time
Documenting procedures takes days, weeks, or even months to complete.
Often companies are creating documents in Microsoft Word or Adobe InDesign. While the InDesign files help create professional presentation, it sacrifices time.
When a change happens to a procedure, you need to tell your department about those changes immediately.
Your employees can't wait two weeks for an updated procedure.
With ScreenSteps, you can update guides in minutes, hours, or days depending on the complexity of the procedure.
Which departments at your company can use ScreenSteps?
While ScreenSteps isn't the best solution for all departments, we have customers from multiple departments that use ScreenSteps for various reasons.
You may see any of the signs shared above in any department at your company. Overall, every department that uses ScreenSteps is looking for:
A way to document procedures that is easy to create content
A knowledge base that is easy to search and find procedures
A centralized location for all processes and procedures (one-stop-shop)
A training program that takes less time and helps better prepare employees for their jobs
Here are examples of how seven different departments use ScreenSteps in their day-to-day procedures.
1. Call Center
One of the challenges call centers face is that agents need to be able to handle a variety of different calls. And they need to be able to do it quickly.
These are your front-facing employees who interact with your customers daily.
The advantage of a ScreenSteps knowledge base is that it is easy to search, find, and use all of your content without putting a customer on hold.
Using context-sensitive help, ScreenSteps puts the guides your call center agents need on the page they are working. If they are processing a payment, all they need to do is click on the blue bell and article recommendations will pop up.
With ScreenSteps, we recommend using Zero Memorization Training. This will put less pressure on your agents to memorize all of the company procedures and policies. Instead, you will train employees to use the knowledge base to quickly find the answers they need.
🔎 Watch Related: How can ScreenSteps help your call center?
2. Human Resources
A Human Resources Department can both use ScreenSteps internally in its own department or companywide for day-to-day tasks.
Because ScreenSteps allows you to control who accesses which articles, you can make necessary resources and training materials available to specific employees or throughout the entire company.
So while all employees could use articles to walk them through how to request time off or fill out an expense report, the HR department can have internal guides for HR employees to approve those time-off requests and process those expense reports.
Keeping everyone up-to-date and compliant with company policies is simple. You can make the employee handbook available where employees are working with context-sensitive help.
You can assign employees continuous learning courses to prepare a new employee to be onboarded. Plus, you can track their progress in the course and view a completion report.
3. Training
Often a branch of the HR department, the training team can focus on development with ScreenSteps.
With a knowledge base that is easy to search and find all the right answers, you can adjust your training so that new hires spend less time in onboarding class and reach proficiency faster.

Using Zero Memorization Training — where you cut out memorization and instead train your employees on how to find the answers in your knowledge base — you make it easier for any employee to become an expert quickly.
By training with the Zero Memorization methodology, we've had companies cut their training time down by up to 90%.
Zero Memorization also simplifies continuous learning. Train and update your tenured employees on new policies by updating the information in your knowledge base. When your employees use the guide, as they should every day, they will have all the up-to-date information.
Beyond onboarding, you can also create personalized courses for your employees for continuous training.
🔎 Related: 4 common virtual training mistakes (+ how to fix them)
4. IT Help Desk
The IT Department is often the source of all vital operational information for your company. Daily, they respond to questions from across the company on how to fix computer issues and other problems.
Having a centralized knowledge base, aids the IT Help Desk in delivering consistent responses.
Plus, it saves IT employees time.
They don't need to keep typing out the same email over and over again. If you have ScreenSteps available for all the departments in your organization, any employee can troubleshoot and follow guides to resolve the issue.
This frees up the IT team to address more pressing issues, like bugs and building software.
5. Accounting Department
The Accounting Department is all about precision. And ScreenSteps is all about organizing systems and making resources available for your employees.
Ensure that everything is documented properly with accessible guides.
Provide step-by-step instructions on how to handle procedural tasks. For example, you can walk employees through how to document expenditures.
6. Sales Department
Is it difficult for your sales reps to keep track of all the products your company sells?
Keep a catalog of all your products in one place. When you document your product catalog in your online searchable knowledge base, your sales reps know where to go to find the information they need.
With a keyword search, it is easy for sales reps to pull up detailed information while they are on the phone.
The Sales Department can also create guides to help with billing. Workflow Articles provide step-by-step instructions to lead employees through a process.
Whether your sales rep needs to configure a quote or decide which product to recommend based on a customer's situation, ScreenSteps can help them reduce mistakes during the process.
7. Marketing Department
Whether you are updating the information on your website or sending out an email campaign, you can create guides in ScreenSteps so that you don't accidentally hit publish or send a message with embarrassing mistakes on it.
We offer three different types of articles for documenting procedures: Standard Articles, Interactive Checklists, and Workflow Articles.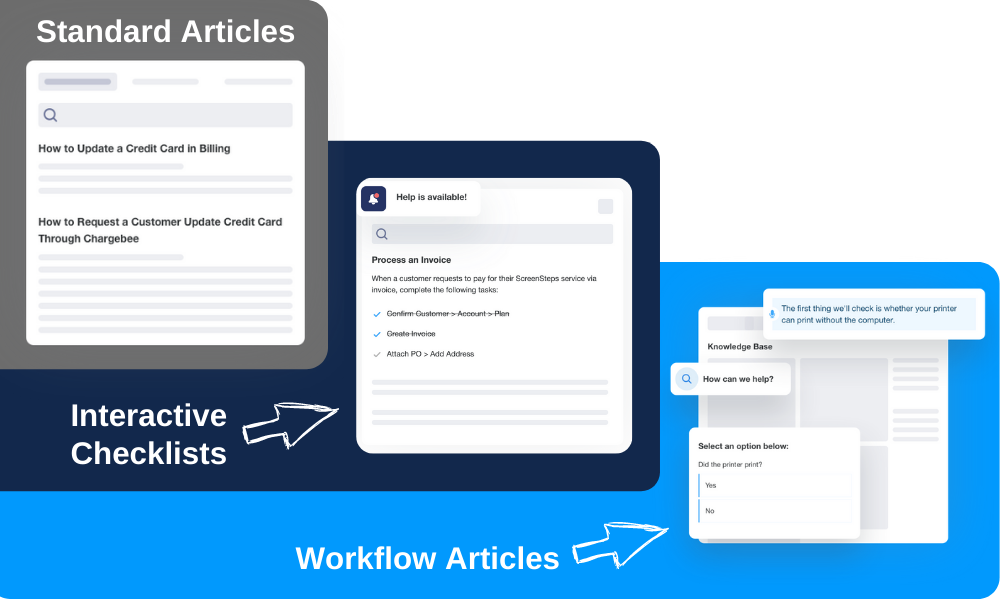 If the guide is meant to help with routine procedures that have no variants — such as generating an invoice — then you can build simple Standard Articles and Interactive Checklists that will provide the key information.
This could be as simple as a "Before you send the weekly newsletter" checklist. The guide would include items to check off, such as:
Does the email have a subject line?
Do all the links work?
Is the right date in the newsletter?
Each of these points could include foldable sections where employees can expand the checkpoint for more detailed information. For example, the "Does the email have a subject line?" question could have expanded points to check best practices, such as whether it has less than 60 characters, uses less than 3 punctuation marks, etc.
For more complex procedures, such as a website redesign, Workflow Articles walk employees through a procedure step by step.
How ScreenSteps can help get all your company's resources in one location
Each department at your company has a unique role to play in the success of a company. Despite their unique roles, there can be consistency in a company if you choose a central location for all of your resources.
You've worked hard to document your procedures. Take the guesswork out of locating your resources.
ScreenSteps eliminates the game of document hide-and-go-seek by putting all of your company's information in one spot. This can be sharing a knowledge base company wide or having a knowledge base dedicated to individual departments.
With permissions management, you never have to worry about the wrong employees having access to classified information. That means you can have the entire company on ScreenSteps but limit which articles different departments see.
Could another department at your company use ScreenSteps? Or are you looking for more consistency for your documentation company wide?
Set up a meeting with one of our representatives to see if ScreenSteps could streamline procedures and training in a specific department.