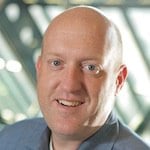 Improving Audio In Screenflow Using GarageBand
Screenflow
is a great screencasting application. But it doesn't offer much in the form of audio editing. In this post I will show you a simple method for editing your audio in
GarageBand
and bringing it back into Screenflow.
A little background on this: I have been using this method for awhile with Screenflow and Garageband. Last week we wanted to get Trevor going creating some screencasts, so we purchased a Screenflow license and Trevor
got started creating some videos
. I whipped this lesson up in ScreenSteps to show him how to improve his audio.
Setup:

Before doing this you want to make sure that you have finished editing your video in Screenflow. This is the last thing you do before you publish your screencast. In this tutorial we are going to:
Export our video
Open it in GarageBand
Edit the audio
Bring it back into Screenflow
Export Video
Adjust Settings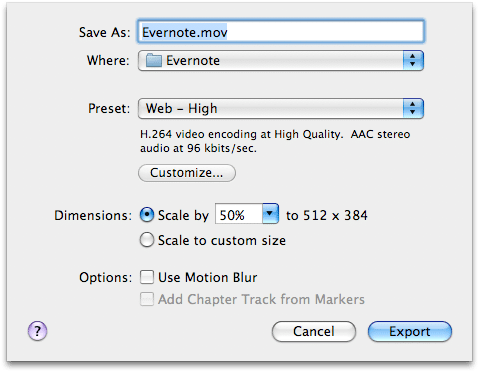 Video size and quality doesn't matter. Just make sure the audio quality is good. I probably should export the audio as AIFF here but AAC seems to work fine for me.
Open GarageBand And Start a New Project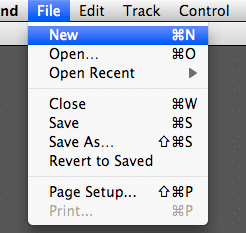 Select Movie
Drag Your Movie Onto GarageBand
Drag the movie that you exported from Screenflow onto your GarageBand project.
Select Sound Track
Select Info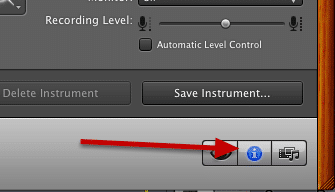 Apply a Default Setting
I just use Male Narrator. It applies just a bit of EQ and compression.
Perform Any Other Edits
At this point I usually quickly go through and cut out any pops, clicks or other noises. GarageBand makes this very simple.
Export Audio
We are just going to export the audio, but to do that we want to select Export Movie to Disk...
Select Expert Setting
Then click
Export
.
Set Format and Save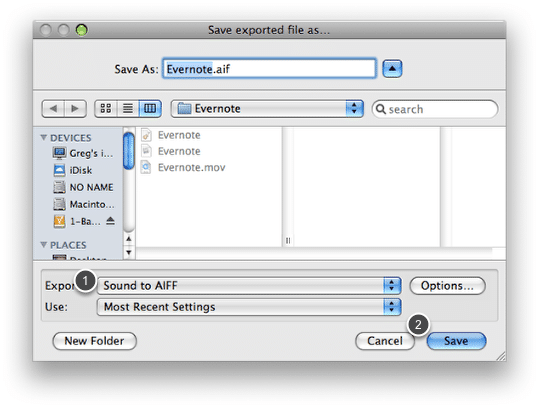 1. Set Export to Sound to AIFF

2. Click Save
Add Audio to Screenflow
Drag the audio file you just created onto your Screenflow project. A new track will be created.
Delete Audio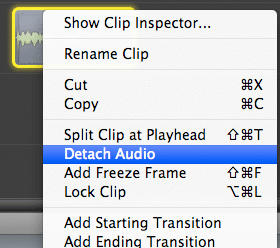 You are now going to delete the original audio from your Screenflow project. If the audio is merged into your video recording then you will first need to detach it. Right click on the clip and select Detach Audio.
Select audio and delete.
Position New Audio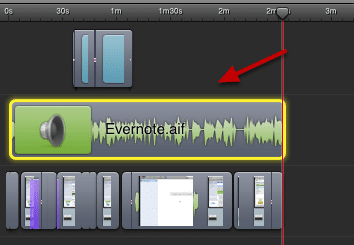 Now just position the new audio file from GarageBand at the beginning of your project. Everything should line up fine and your audio will sound much better.