New ScreenSteps Feature: Revision Notes
Don't you hate it when you finish up a project, release it to the world, and then get an email from your team with something like, "Hey! How come you didn't address any of my notes and feedback?"
D'oh!
That's why ScreenSteps is releasing a brand new feature that will help you keep track of your team's revision notes and feedback, right in the web editor.
What's different?
Previously, you could only leave revision notes for an entire article--not for individual fields and elements. Which meant that if you had a lengthy article, it wasn't easy to manage feedback and revision notes within ScreenSteps.
Now, you can leave a note next to each element.

You can also add additional comments to a note, reply to a specific note, mention your team members (which sends an email to those mentioned), and mark the note "resolved."
If a note is unresolved, an alert shows up in the web editor indicating that work still needs to be done to resolve that note.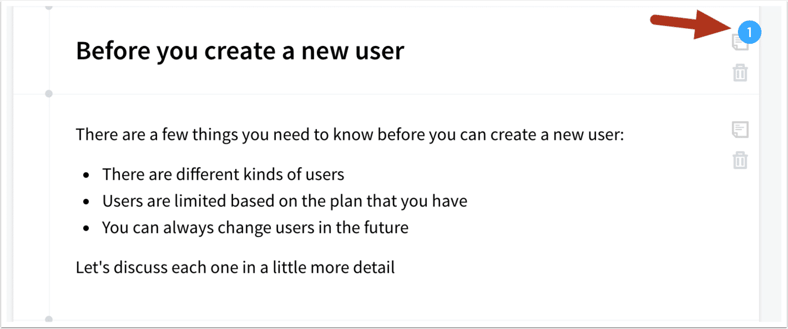 All of your communications related to an article are now captured right in the web editor, making it easy to manage the feedback process in one place. And being able to mark a note as "resolved" makes it simple to see the notes you still need to address before the article is published.
How does Notes change your life?
It was common for ScreenSteps authors to export an article to Word (or copy and paste content into Word or an email) and then transpose a team member's changes and feedback from Word into ScreenSteps.
No more searching your inbox for emails with detailed notes about what needs fixing. And no more hunting down Word docs to make sure you incorporated all of your team's comments about your ScreenSteps articles. Now, you can keep track of (and manage) all of the requested changes and feedback right within ScreenSteps.
Try it out!
This feature will be released on March 29, 2017. If you already have a ScreenSteps account, try it out! Edit an article in the web editor and start leaving revision notes.
If you don't have a ScreenSteps account, sign up for a free trial so you can experience how easy (and fun) creating documentation can be.