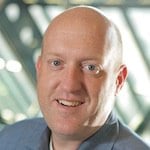 4 Strategies for Remote Call Center Training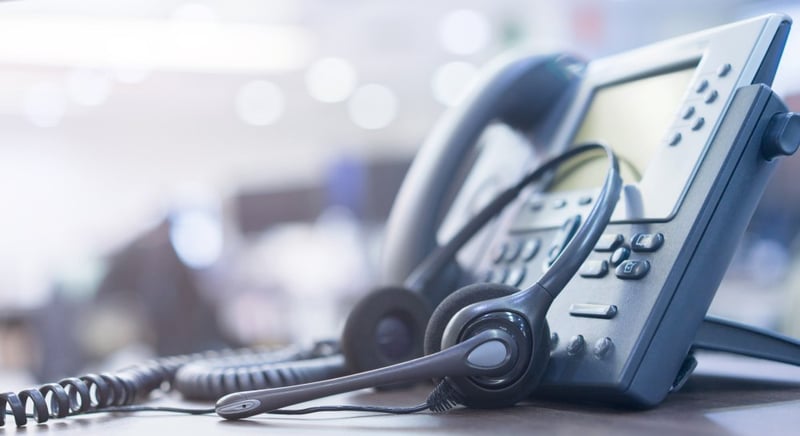 We'll explore the pros and cons of each approach, as well as the tools you will need for each one.
🔎 Related: 3 Ways You Can Support and Train Remote Workers with an Online Knowledge Base

Option 1: Virtual Instructor-Led Training (VILT)
With Virtual Instructor-Led Training, you're really just transitioning your classroom training online. Instead of interacting in a classroom environment, you'll be interacting in a web meeting application. Instead of sitting next to someone to shadow or nest, your agents will be doing so remotely.
Things you will need (in addition to the tools you were already using):
Benefits of VILT:
You don't have to change much. You already have your classroom materials. You have done this before, so you're very familiar with the process. This option will require the least amount of upfront work.
Challenges for VILT:
You need to be aware of a few things, though.
Your training time will likely increase.

People simply can't sit on a video training for as long as they can in a real classroom. Attention spans will decrease, as will retention levels. You will probably find that you can't pack as much training into one day as you previously did, so you may need to adjust your training expectations.

You'll lose informal training.

Informal training that happened outside of class will be much more difficult in an online setting. Every training program has gaps, but in person, a lot of those gaps are covered in between sessions — at lunch, on a coffee break or before or after the formal instruction. Those social times are going to mostly disappear, so you may find that information that was previously conveyed informally isn't being covered.

"Reminding" users isn't quite as easy.

An agent can no longer look over their neighbor's shoulder to see how they are using the CRM system, or tap their neighbor to ask them a question. Messaging apps will help with this, but it isn't quite the same as being right next to someone. Once again, you may see that this will increase the time the agent needs to spend in the shadowing and nesting stages.

Engagement may be challenging





Sitting all day in a Zoom meeting can be tough. You will need to find ways to mix things up to keep your agents engaged.




Tips for VILT:
Here are a few tips for optimizing your call center training if you are just going to move your existing training methodology online:
Record your training sessions. If someone misses the training session or if they need to review some information, you can provide them with the recording.

Help agents stay engaged during VILT on Zoom. Jason D'Amboise used tips he learned from Jason Tetek and had this to offer: "

Personally, I tried to maintain engagement by having students share their screen as often as possible, and then leading the lesson through probing questions of the OTHER participants in the 'room'. This included cold calling on people to respond, which I have never really liked doing, but I found it to be critical in this environment. I found that this maintained engagement well and allowed me to move the class through the learning in a way that was very similar to the typical lesson flow I was used to."

When the remote agent is shadowing, don't have them just listen in on the call. Have the other agent share their screen as well. The new agent needs to not only know what to say, but they also need to become proficient in the software applications they need to use to do their job.

When they are nesting, have them share their screen with their coach while they are on the call. Once again, the coach needs to not just give them suggestions on what to say, but also how to find the information they need and follow the correct procedures. Eric Fish shared this tip: "

The trainee would share their screen in Zoom and start taking calls. Using the annotate feature the coach would draw on the trainees screen and guide them if they were stuck."

Remove Echo when coaching over Zoom. Eric Fish shared this tip for handling coaching calls on Zoom: "

The main issue that we ran into was an echo on the customer's end of calls when a coach would observe a trainee through Zoom. The trainee would be on the call and the customer would hear the echo. Normally a coach would have been in a room with 2-3 trainees listening into the call on speaker phone and the trainee would share their screen on a TV in the room. Since this was no longer an option, we used the Zoom breakout room feature. I would start a meeting and then assign each trainee and coach into a room. The trainee would be wearing a headset, and once in the Zoom breakout room, they would change the Zoom audio settings. The mic on the headset would be set as the default input device and the laptop speakers would be set to the default output device. Once this was done, the coach observing would mute their own mic on the Zoom call. By doing this it allowed the coach to hear the phone call on their end without causing an echo for the customer.
Transitioning your existing training online will take the least amount of preparation — but it will probably deliver subpar results in the long term. You should expect to see training times increase if you take this approach.
Option 2: E-Learning
The next option is to fully commit to e-learning. This largely consists of developing self-paced training courses. The new agent can take the courses at their own pace, review as necessary and then take quizzes that certify their understanding of a topic.
What you will need:
A Learning Management System for delivering the training
Video creation software for creating the training content, such as: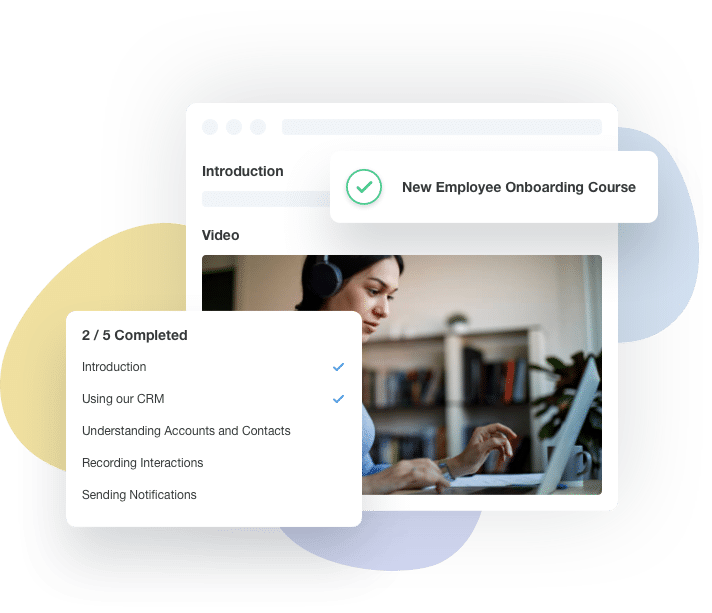 Benefits of E-learning
With e-learning, you can create a repeatable process that will help your agents learn your call center's processes on their own.
Challenges of E-learning
E-learning can be time-consuming to create.

Creating numerous training videos can take a lot of time, and oftentimes the tools to develop e-learning can be complicated.

E-learning isn't very flexible

.

It's hard to quickly adapt your e-learning when processes need to change. For example, if you record videos for your training, those videos will be very hard to modify once processes change.

E-learning isn't easy to reference.

The other challenge is that e-learning is not easily referenced if an agent can't remember everything they are taught. This means that when they are on a call and need to be reminded of some information, the e-learning resources you have created for them will not be useful to them because things like videos aren't easily searchable.
🔎 Related: 3 Keys to Get New Call Center Agents to Proficiency in 10 Days or Less
Tips for E-learning
Make sure your videos cover concepts and high-level processes that are unlikely to change often.
Create job aids that contain detailed checklists and how-to guides that can be used as a supplement to the e-learning. This will increase the shelf life of your e-learning while still keeping it effective.
Use chatbots for practice. Matthew Williams shared this tip: "We're

in the process of deploying some chat-bot technology to help agents role-play in the absence of nearby peers to practice with."

Use a blended learning approach. Matthew Williams also shared this tip: "

The pre-packaged courses that we've created that we might have normally worked through together in the classroom, we now use them in a more assignment-based way (complete the courses and we'll meet back to discuss), encouraging more self-directed learning."
Option 3: Scenario-Based Training with Word Files or an Online Knowledge Base
Scenario-Based Training (SBT) is a less-well-known, but more effective method of training agents, particularly in call centers. In SBT, you give the agents a "cheat sheet" (or guide) and then put them in different scenarios, asking them to use the guide to successfully respond to the scenario. In this method, the agent learns by doing instead of spending hours studying information.
There is a saying that goes:
"If I hear it, I forget.
If I see it, I remember.
If I do it, I know."
Scenario-Based Training allows the agent to "do" things that help them retain more information.
What you will need:
A list of common scenarios that the agent will encounter
Documentation of what the agents ask, say and do for each scenario (e.g. scripts & call flows)
An authoring tool for documenting the scenarios, such as:

Microsoft Word
Visio
Excel
Lucidchart
ScreenSteps
Benefits of Scenario-Based Training
When you implement Scenario-Based Training, you create a training program that is extremely effective and scalable. Agents will become proficient much more quickly, they'll have greater confidence, and your trainers will have to spend less time presenting and re-teaching information.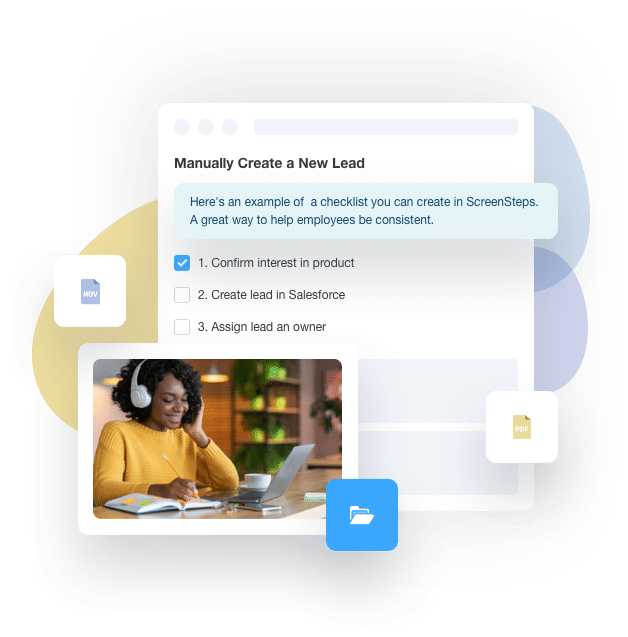 Challenges of Scenario-Based Training
SBT can't always handle complex call flows.

Depending on the complexity of your scenarios, it can be difficult to document out all of the paths that a call might take. If the scenarios are too complex, then the resulting documents can become hard to read.

You may need a tool that can incorporate visuals.

If you are documenting procedures that need to be followed in your software system, you may need to include many screenshots. This can be very time-consuming unless you have a tool that integrates screen capture utilities into your knowledge base.
🔎 Related: What is Your True Cost of Training a New Agent in the Call Center?
Tips for Scenario-Based Training
Here are a few tips:
Build out your most common scenarios first. If your agents become proficient in your most common scenarios, they will be able to be successful more quickly.

There are various options for documenting the decision trees that your agents will follow. You can create outlines in a document or knowledge base article, you can create a visual process flow in tools like Visio or Lucidchart, or you can create Interactive Conversation Flows (described below).

Instead of creating one massive scenario document, break scenarios out in different documents. If you are using an online knowledge base, create a master scenario that has links to the more detailed scenarios. This will make it easier for your agents to find what they need.
Option 4: Scenario-Based Training with Interactive Conversation Flows
Option 4 is really just an improvement of option 3. It is Scenario Based Training with the help of Interactive Conversation Flows (ICFs) — which means no memorization required. You can see a video example of how this type of training can work here (How to Train For Proficiency).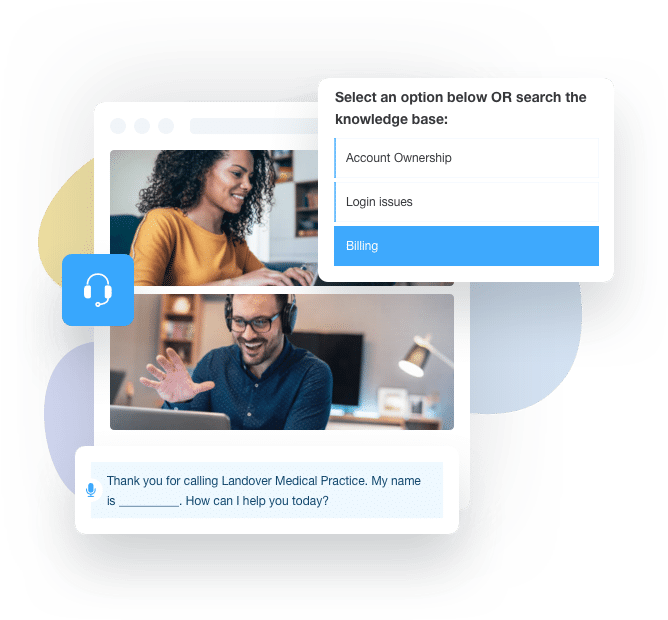 An ICF accomplishes a few things:
Shows the agent exactly what to ask, say and do AND how to do it.

Guides an agent through a complex process while hiding the complexity from the agent, allowing inexperienced agents to more effectively deal with complex scenarios.

Creates reference materials. The same guides that an agent uses during training can be used when they are taking actual calls.

Increases effective calls. Information is presented in a format that allows the agent to follow the ICF without having to put the customer on hold. This results in decreased handle time and hardly any silence time.
Is easy to update. When a process changes, an ICF can be instantly updated. The next time the agent follows the ICF they will be guided through the process.
What you will need:
A list of common scenarios that the agent will encounter.
Documentation of what the agents ask, say, do and HOW to do it for each scenario (i.e. Interactive Conversation Flows).
An authoring tool for documenting the ICFs.
🔎 Related: Save time training with Zero Memorization
Benefits of Interactive Conversation Flows
ICFs are simple to make as long as you understand the processes in your contact center.

ICFs are easy for agents to use during a live call.
ICFs can be used as part of training and onboarding call center agents, AND they can be used during live calls.

ICFs are in a searchable knowledge base so agents can quickly find what the need if a caller goes "off script."

ICFs allow you to adapt to changing procedures and call flows more quickly.
ICF's allow you to make a major impact on the following metrics

Training time
Time to proficiency
Handle time
Silence time
QA scores
Challenges of Interactive Conversation Flows
It does take some skill and organization to build out effective conversation flows. You have to really understand your call center's internal processes before you can create an ICF. If you have everything very organized, then it's an easy transition. If you don't, then we can help your team identify your key scenarios, capture all of the variables and then build the conversational flows.
Summary and Next Steps
Hopefully this article has given you a good idea of the call center training options that are available to you. Your training methods are going to have to change in order to support your agents in this new environment. By carefully evaluating the effectiveness of the method you choose, you can set your call center to hit your performance metrics right now and be better prepared to adapt to the business disruptions that can and will happen in the future.
If you would like to learn how ScreenSteps can help you develop clearer, more effective call flows, watch the 2-minute video below.