Five Things to do During Your ScreenSteps Trial
During the first five minutes of any software trial, you have to make one decision:
Should I invest more time learning about this software or should I move on to something else?
When you start your ScreenSteps trial, it's no different. You need to decide if ScreenSteps is something you should dedicate more time to learning about and whether you should use it in your organization. To help you make that decision, I recommend starting off doing five things.
Who loves using ScreenSteps?
Actually, before I share those five things, let me first describe what people are using ScreenSteps for and why they like it so much. That way, you can get a better idea as to whether you're even in the right neighborhood by checking out ScreenSteps.
Any industry can use ScreenSteps. We have customers in education, healthcare, financial management, banking, property management, SaaS, government, and manufacturing. Really, your industry doesn't matter. The thing that does matter is what you want to achieve.
The businesses and organizations that love using ScreenSteps want to:
Decrease the time it takes to train employees and/or customers
Improve employee and customer productivity
Reduce the number of post-training and support emails
Roll their knowledge base out quickly
Provide an option for employees and customers to find guides via keyword search
Quickly create new guides and iterate existing guides as processes and procedures change
Create interactive guides without getting an engineer involved
In other words, creating a nice looking knowledge base isn't their only goal. And simply housing a bunch of policies and procedures isn't their end goal. People who love using ScreenSteps are focused on improving employee performance and customer education.
So, if all you want to do is create a wiki and collect knowledge so that you can check a box saying you've got "knowledge management," and you don't care whether that information and knowledge is ever used, then ScreenSteps is NOT the right solution for you.
What to do when you begin your ScreenSteps trial
If you're trying to improve your business results and create a Zero-Memorization knowledge base, then here are five things to do right off the bat to determine whether you should spend more time learning about ScreenSteps.
1 - Create a simple guide/procedure with the desktop editor
The first thing you should do is download the ScreenSteps desktop editor and create a simple guide. The key here is to focus on a specific task such as "What to do when an invoice is overdue" or "How to reschedule a patient when they missed their appointment."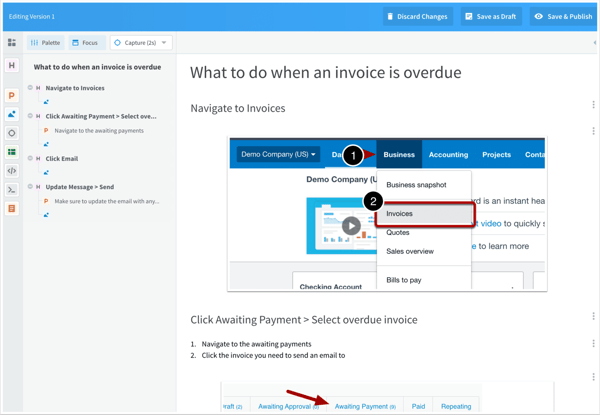 Creating a simple guide will allow you to experience how fast and easy it is to capture screenshots and build a beautifully visual guide that employees/customers can use when they need help performing tasks.
2 - Make a few changes to your guide
If you're serious about improving training, performance, and productivity, then you will need to update your ScreenSteps guides on a regular basis as things change and end users ask for clarification. In other systems, swapping out screenshots and moving sections around can be a huge pain––not with ScreenSteps.

Replace screenshots, move sections around, modify your image annotations, or make some other modification.
3 - Create a Workflow Article with a simple decision tree
Some of your procedures are not straightforward. In fact, I'll bet a good portion of your procedures say things like, "If this is the case, do that. But if that is the case, do this."
It's difficult to write those kinds of guides in applications like Word and Google Docs, and it's even more difficult to follow those procedures as an end user (which is why those types of procedures result in a lot of mistakes or follow-up emails asking for clarification).
In ScreenSteps, you can create guides that include decision trees. We call them Workflow Articles, and you can create a simple one in about three minutes.
Start off by creating a Workflow Article that just has one Yes or No question––you just need to test out the waters, so no need to get too complex yet (although Workflow Articles can definitely handle your complex procedures).
When published, it will look something like this:
4 - Try out search
Your employees and/or your customers want to be able to find your guides by typing in a few keywords (Google has spoiled us). This is probably the most important feature for you to get buy-in from your team. If employees and/or customers can find what they need by typing in a question, you'll easily win their praises.
So give it a try so you can experience what that would be like.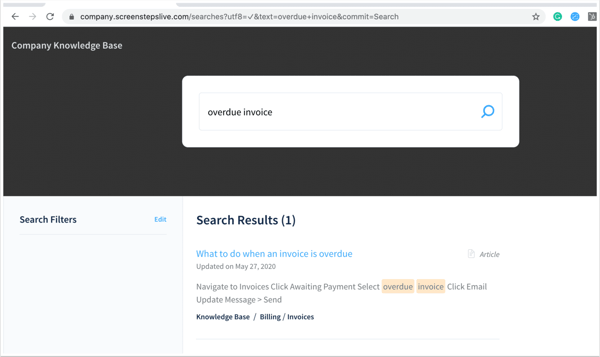 This is kind of the magic moment for your team. When they realize how easy it is to find your guides by typing in keywords, they will instantly fall in love. Especially when they don't have to wait for a PDF or a Word document to load in order to find an answer to their question.
5 - Look at your reports
Finally, check out the reports section of ScreenSteps. You can see which articles are being viewed, which of your users are viewing your articles, and what keywords are being typed in the search field.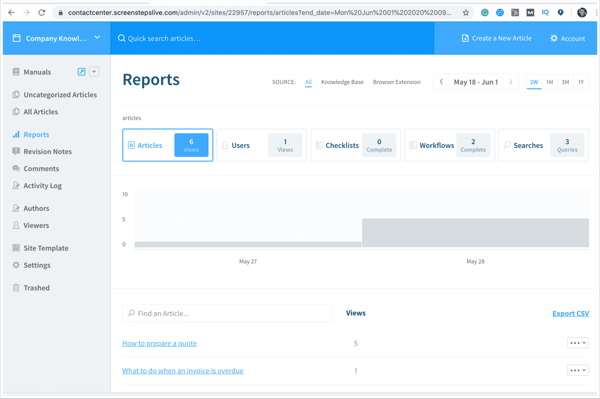 All of this data provides you with insights into which content is being used most and what people are searching for.
But wait, there's more!
These five things do not encompass all that ScreenSteps can do, but they are a great place to start your trial because now you can decide whether ScreenSteps is something you should invest more time in, or whether you should move on to something else.
If you decide that you should invest more time with ScreenSteps, you can begin exploring:
Customizations
User permissions
Courses
Google Chrome Extension
The various styles of guides you can create
How to incorporate ScreenSteps into Zero-Memorization Training
Those are all amazing features, but none of those will matter unless ScreenSteps can help you create a guide that is so clear and so easy to find that it will decrease training time and help employees and/or customers work faster with fewer mistakes.
Sign up for a trial
If you haven't yet signed up for a trial of ScreenSteps, do that next. Then go through the five activities above so you can determine whether ScreenSteps is right for achieving your goals.