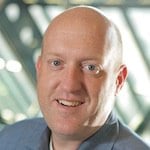 Should I replace my Sharepoint Knowledge Base with ScreenSteps?
We talk to a lot of people who are currently using SharePoint in their organization for their knowledge base management - but they aren't quite getting the results they would like. The typical things we hear are:
No one uses the knowledge base
When employees search SharePoint they can't find the information they need
A lot of information in SharePoint is outdated and it is hard to keep it up to date
Even when employees find the right information, they often find it easier to just ask their manager what they should do instead of reading through what are often dense documents in SharePoint
What managers are really feeling is frustration that they have all this knowledge in SharePoint, but it isn't benefiting their business. Employees are still making mistakes. They are still giving the wrong answers to customers. They are still asking their managers and trainers questions that they should be able to answer on their own.
If you are a trainer or a manager, this puts a huge burden on you. You are hearing complaints from stakeholders that you need to do a better job of training employees. You know that you either need to find a way to get your employees to use SharePoint effectively, or find another solution.
And so now you have stumbled upon ScreenSteps and you have some questions like:
Could ScreenSteps solve some of these problems?
How would ScreenSteps help us achieve better results than we are now getting?
What would be the cost of adding ScreenSteps to our organization?
Would ScreenSteps replace SharePoint?
I'm the CEO of ScreenSteps and have worked with many customers who have been in this situation. I have also talked to our team members who have helped in these transitions to identify the key improvements that customers see when they add better knowledge management to their organization with ScreenSteps. What follows below is based on those personal interactions and feedback we have received from our clients and team members.
Diagnosing your SharePoint problems
You probably don't have a "SharePoint problem". You have knowledge management problems and you are frustrated because it seems like SharePoint should be helping you, but it isn't.
In order for your knowledge management program to be effective you need to have a knowledge management tool that enables your organization to do four things very fast. We call them the Four Speeds:
Speed of Search: How fast can you find the right content?
Speed of Knowledge Application: Once you have found the right content, how fast can you correctly apply it to the current situation?
Speed of Creation: How quickly can you create crystal clear content?
Speed of Iteration: How quickly can you update and iterate over content?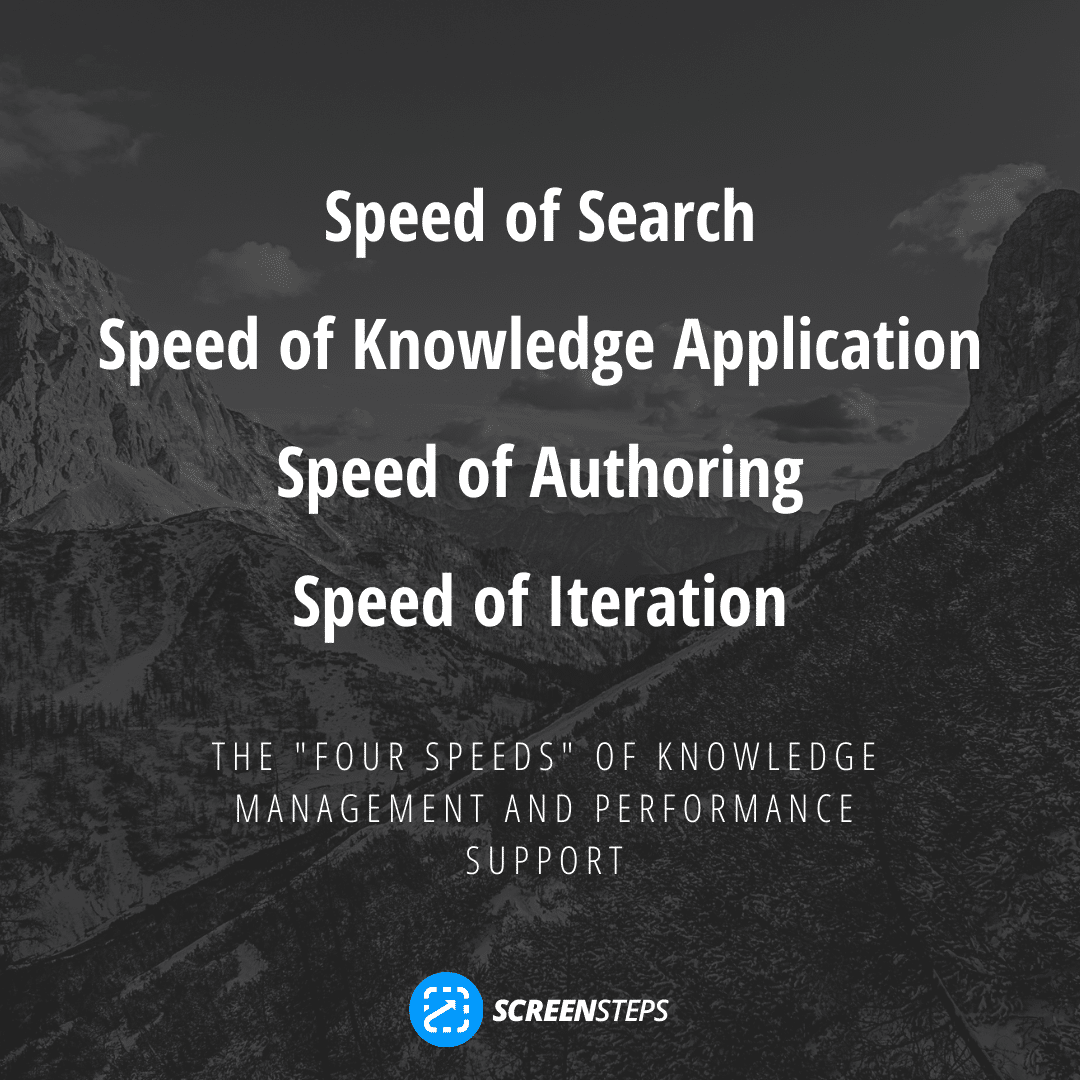 If it takes too long to do any one of these things then your content won't get created soon enough, won't get used, or won't get updated. That will result in:
Employee mistakes
Lots of employee question
Lots of sticky notes on employee workstations
An inability to adapt to changing procedures or information quickly
Lengthy training times
If you look at your use of SharePoint you are probably noticing that you are experiencing slowdowns in all of these areas:
People can't find what they need
Once they find it, it takes a while for them to understand and apply the information
It takes a long time to create the content
It takes a long time to update the content
Let's talk about how ScreenSteps addresses each of these issues.
Searching for content
SharePoint
One of the biggest problems people have is that they can't find the answer to their question in a document because it is buried inside of a larger document. An employee searching for information has to first find the large document, and then use CTRL-F to search inside of that document for the area that has their answer. Employees become frustrated because they know the information is in there somewhere, they just can't remember which document it is in.
ScreenSteps
ScreenSteps addresses this by encouraging you to create a separate article for each question your employees have. By focusing the article on answering actual questions your employees are asking, it becomes much easier for them to know when they have found the right article. Usually, employees can tell just from the article title whether or not it will answer their question, instead of having to open up several articles and search inside of them to see if they have the information you need.
Read Case Study: Cushman & Wakefield Transition from SharePoint to ScreenSteps
"Finding content in SharePoint was a huge challenge. So we switched to ScreenSteps. Now, it's easier to create knowledge articles and easier for employees to find those articles."
- Derek Cisler, Training Manager
Applying information once you have found the right document or article
The best speed test to apply for a given document is to ask someone to follow the procedures while they are on the phone. If the employee can clearly communicate what needs to be done without having to pause for a long time to read the details, then it passes the speed test. If the employee needs to pause or put the other person on hold while they read through the information, then the document fails the speed test.
SharePoint speed of application test
Most people we speak to are using SharePoint as a document repository for hosting PDFs, Word, PowerPoint, and Excel documents. When an employee searches for information they need to:
Find the document
Open the document
Find the right place in the document for their problem
Read through a lot of text
Then try to apply the document
It simply takes too long and does not pass the speed of application test. This is primarily for two reasons:
There is too much information in the document
The document is not formatted in a way that an employee can quickly understand and apply the key points
The "Speed of Knowledge Search and Application Test"
The key to speed of application is the formatting of your articles. ScreenSteps includes tools like foldable sections, call out text blocks, inline links, and interactive decision trees that allow you to format your articles in a way that employees can quickly understand and apply the information in the article. Our customers who are supporting call center agents report that their agents can follow complex procedures, while they are on the phone with a customer, even if it is their first time dealing with that particular scenario.
Creating content
SharePoint
In SharePoint you will be using either a standard web text editor or you will be uploading PDF, Word, Excel, or PowerPoint files. The web editor will not provide you with any specialized tools for documenting processes or procedures. If you are hosting PDF or other files, you need to update the file, and then upload it to SharePoint. This can be a laborious process that most people dread.
ScreenSteps
ScreenSteps comes with a desktop authoring tool specially designed to make the process of documenting processes a quick, clear, and painless process. It includes an integrated screen capture tool, customized formatting tools, and the ability to add interactive elements. It allows you to include the following interactive features with just a few clicks:
Sections of a document that can expand and collapse
Text callouts for tips, alerts, or warnings
Prompt text for clearly showing a call center agent what they should say to a customer
Questions that will guide an employee through a process based on their answers
Checklists to make sure no steps are skipped
By having these tools at your disposal you can create content more quickly which allows you to immediately address new needs as they present themselves.
Read Case Study: Advanced Tech Transitions from SharePoint to ScreenSteps for Knowledge Management
"We felt like our end-users were dialing our help desk instead of using our previous SharePoint site. But with ScreenSteps, we can see a lot more people are viewing the knowledge base - the usage is growing each month. And we are seeing a drop in the number of questions we are being asked."
Davide Overturf, Advanced Tech
Updating and iterating over content
You already know what it is like to update content in SharePoint. And you know that not only does your team dread doing it, they often don't do it, allowing content to get out of date. This leads to confusion, mistakes, and frustration.
ScreenSteps includes tools to make updating your content extremely fast. In fact, we have customers that will update content in the middle of a training session as they discover ways they can improve it. ScreenSteps allows them to iterate in real time over content to make sure that it is as clear and effective as possible. This ability to iterate quickly allows them to optimize their articles so that their employees can use them quickly and correctly.
Is ScreenSteps a replacement for SharePoint?
No. In most cases, you will continue to use SharePoint to share files that your team needs access to. You will just use ScreenSteps for your knowledge base and training and performance support.
Read: ​SharePoint's Knowledge Base Software Won't Cut it as Your Team's Knowledge Base
Do people use both ScreenSteps and SharePoint?
Yes. In most cases, organizations simply add ScreenSteps as an additional tool in their organization. They continue to use SharePoint for file sharing and collaboration. They use ScreenSteps as a knowledge base to support employee training and performance.
What are the costs?
Depending on the plan you purchase, a Microsoft 365 subscription that includes SharePoint will cost between $5 and $20 per user per month. You can see current pricing here.
ScreenSteps' pricing is a little different. With ScreenSteps you are charged based on the number of monthly active users on your account. Pricing is between $5 and $15 per active user per month depending on the plan you choose and the number of users on your account. Volume discounts are offered as you add more users to your account.
Do you want to learn more?
If you identified with the problems we outlined at the beginning where employees are not able to find information and authors struggle to create new content and keep it up to date, then sign up for a trial account or schedule some time to speak with one of our team members to see a demo. We will be happy to answer any questions you have and help you see how we can help you capture, update, and use knowledge more quickly in your organization.
Do you work in a call center? If so, then watch the 2 minute video below to learn how your call center could use ScreenSteps to improve their call flows.
Watch next: Do you wish your call center guides were easier to use?