3 Tips For Creating a Training Program in Your Business [VIDEO]
When trainers put together a training curriculum for onboarding new hires or cross-training/upskilling employees, it's not always clear what the best way is to teach the new information.
Typically, what we see is that trainers resort to putting together a PowerPoint deck with screenshots, dozens of bullet points, and a few clever graphics. And the result is often the same across organizations – employees leave training without really understanding what they need to do (nor are they able to do it).
Over the past 10 years, I've been doing a lot of research on how to best teach people new things in the workplace. It has helped our team at ScreenSteps — a knowledge base and training solution tool — figure out the best way for businesses to teach employees how to learn new procedures and use technology.
3 basic learning concepts
While there are a lot of ideas about how to put together a training program, I've boiled it down to 3 basic concepts:
Teach employees the context of what they're going to be learning about
Teach employees the situations that will come up where they'll need to use this knowledge
Teach employees how to respond to those situations
Watch this 3.5-minute video below to learn more about those three principles and how you can apply them to create a streamlined training program that teaches people business processes and procedures.
🔎 Related: Knowledge Base vs LMS: What Are Their Roles? How Do They Differ?
Create a training program based on those 3 learning concepts
The trainers I work with are often teams of one, two, or three people, and resources are slim. So we have to figure out ways to realistically apply those 3 learning concepts in a fast and affordable way.
Here's how you do it:
Prepare a presentation (or create what we call a Foundation Course) that explains the basic concepts. One presentation/Foundation Course for each topic.
Do activities where you simply read off realistic scenarios that the learners will encounter related to that topic.
Create policies, job aids, and SOPs that learners can reference when responding to the scenarios.
This approach helps people understand the context of what's going on, helps them recognize the situations they'll need to respond to, and they'll be able to practice responding appropriately because they'll be following your guides.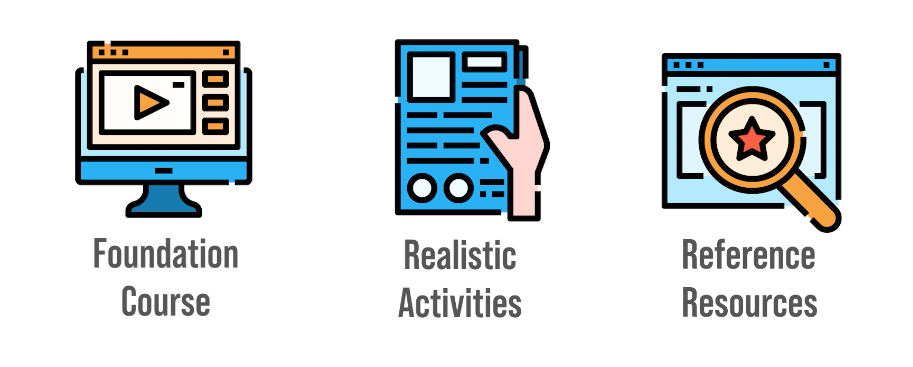 Not only will the training go smoother, but after training is over, employees will be able to apply what they learned in the real world.
Need help creating your help guides and/or training program assets? ScreenSteps offers workshops and coaching services to help you develop your documented policies and procedures.
Learn more about how coaching and workshops could help you develop your training program and/or your documented policies and procedures to support your employees in training and on the job.