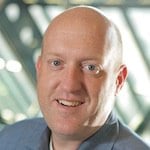 Who does what? 2 options for consultants partnering with ScreenSteps
After searching for innovative solutions, you've come across ScreenSteps.
You've explored the features and think that your clients would benefit from the searchable knowledge base and training features that deliver decreased costs and decreased transition pain associated with change management.
But now you're wondering, what happens when I partner with ScreenSteps?
At ScreenSteps, we make it easy for consultants to introduce and implement our knowledge base software for their clients. Our ScreenSteps team is here to offer resources and the support you need to make sure your clients are trained on how to use ScreenSteps and that ScreenSteps is successfully implemented.
As CEO of ScreenSteps, I've personally worked with consultants to produce the best solutions for their clients. We pride ourselves on being a reliable and trustworthy partner that zeroes in on your clients' goals and produces results.
When we partner with consultants, we let them determine the extent that the ScreenSteps team is involved. Below, I provide two options for distributing roles when partnering with ScreenSteps.
Then I define those responsibilities for helping launch ScreenSteps in your client's company.
Option 1: You handle the full implementation and training
Let's be honest — you are the hero in this story. You did the research. You found a solution that will help your client.
So, in this scenario, you are the primary contact for your client. While you are on the stage, the ScreenSteps team is behind the scenes making sure you have the resources you need to succeed.
We work with you from proposal to post-launch to make sure that your clients are satisfied with how ScreenSteps is working in their companies. Plus, we handle technical support for you and your client.
The responsibilities are broken down like this:
You handle
We handle
During implementation and training, we are available to answer any of your questions.
🔎 Related: 12 signs that show your client needs ScreenSteps
Option 2: You handle the full implementation and lead the training but have us assist
Batman had Robin, Sherlock Holmes had Dr. Watson, and now you have the ScreenSteps team.
In this scenario, our roles overlap a little bit, but we are still the assistant (or the sidekick).
Essentially Option #2 is the same as the first option with a slight difference. You will still be the main point of contact for your customer, but we'll interact with customers in areas that you specifically need help with. Plus, we help more with content.
The responsibilities are distributed like this:
You handle
We handle
Defining the responsibilities for launching ScreenSteps
Launching a new software in a company takes planning and coordination. Luckily, when you partner with ScreenSteps, you don't have to do it alone. We are there to help through every step of the process.
Let's dig into the specific responsibilities listed above so you can get more details on what needs to be done before launching ScreenSteps.
Here we define the responsibilities that we will distribute between our teams to prepare the client for launch.
Migrate the content into ScreenSteps
If your client already has documentation — whether that is in PDF, Word Document, or another form — then those resources can be migrated into ScreenSteps.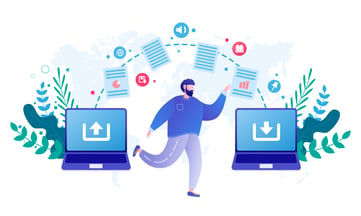 Either your team or our team (or both of our teams) will work with the client to migrate these documents into ScreenSteps. That involves having the client send us files. Then we upload them into the system as articles.
The documents will still need to be optimized in ScreenSteps (ie: organized and edited for easier use), but they will then be searchable in the knowledge base.
Create new content in ScreenSteps
In order to launch a knowledge base, you need to first fill that knowledge base with resources. Even if your client has existing content that's being migrated into ScreenSteps, most likely they'll also need to create new learning materials from scratch.
Below are a few tasks you will need to complete before launching ScreenSteps.
Write help guides
What are day-to-day tasks that aren't already documented as a guide?
The person in charge of writing will need to write down these processes in articles. The client can always add more articles later, but they'll want to launch with guides for their most common questions.
Depending on what your client prefers, either you will write the help guides or they will want you to train their authoring team on how to create help guides.
Design a content style guide
Having a style guide keeps the guides uniform, which makes it easier for employees to read the guides.
This involves determining how different types of articles should be structured. For example, a checklist would be used if employees know how to complete a process but you want to make sure they don't miss a step.
Then we'll help the client decide the rules for when to use titles, headings, bold, italics, links, etc.
Once a style is chosen, we can set up a template for the client. This speeds up content creation since the client can copy the template. They can then add the information and screenshots they need.
Content Optimization
Optimizing content includes setting keywords to make it easier for employees to find the articles they are looking for.
It also includes rewriting and editing guides so it is intuitive for employees to follow the step-by-step instructions.
Train the authors on creating content in ScreenSteps
The client should set a point person or a team to be in charge of content. Before launch, they will help fill the knowledge base with guides. After launch, they will continue to update the guides and add new articles to the knowledge base as they are needed.
Training content authors includes teaching them how to use the authoring tools in ScreenSteps and making sure they are well versed on the company's unique style guide (see the above section).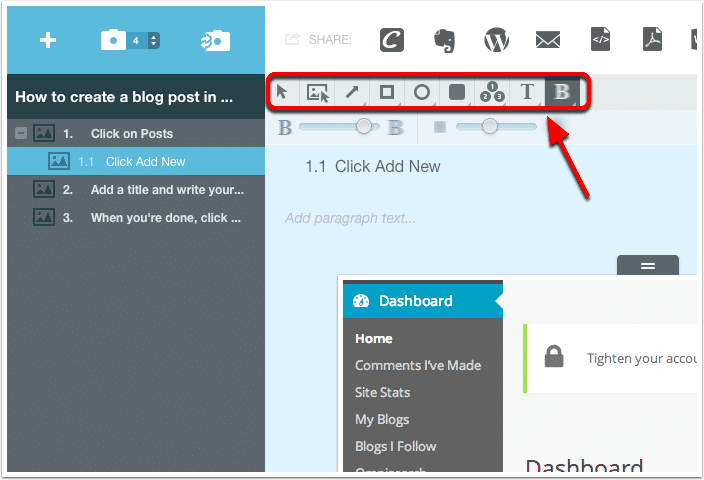 The ScreenSteps Help Center is going to do most of the work for you. The help center has courses and easy-to-follow guides to help you train authors and outline an onboarding plan that doesn't take a long time.
Also, we can set up a ScreenSteps article that will help the client's authoring team. The article will show them how to design their content with step-by-step instructions. These instructions would be specific to its company and style guide.
Outline the training curriculum for the end-users
An essential step in preparing for launch is training your client's employees on how to use the new knowledge base. Typically, you'll want a training event to introduce your client to ScreenSteps.
Your team, the ScreenSteps team, or your clients' trainers could lead this event.
Either way, one of us needs to prepare a curriculum for the training event. This may sound intimidating, but you won't be starting from scratch if you decide to write the curriculum.
The main thing is that you want your client's end-users to be comfortable navigating through ScreenSteps when they need information. One of the best ways to go about training is to use the Zero Memorization Training approach — basically, it's a Google scavenger hunt.
So, as part of your preparation, you are essentially creating a list of everyday questions and situations where they can look in ScreenSteps to know how to respond.
When the content is in ScreenSteps, it's done 90% of your training for you. Those guides are used to train employees as they do their jobs. The curriculum is simply training employees how to find the help guides they need in ScreenSteps.
Set up IT
How will this integrate with our client's other software (ie: Salesforce, nCino, etc.)? How will your clients authenticate users?
We handle all the IT configuration setup, meaning any integrations and web-end organization.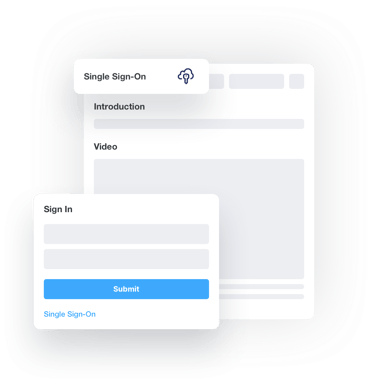 Depending on the size of your client's company, they may want to have multiple domains or keep the entire company on one domain. Our team will help you determine which situation would work best for your client.
Then our team would set up those domains so that your team can start filling the knowledge base with content.
We work with the client's IT team to configure single sign-on (SSO) so that your clients only need one password to sign into their ScreenSteps account along with the other cloud-based programs.
Provide technical support
When you run into technical questions, our team is available to answer questions. We provide support on the product.
If your client needs technical support, our team responds to most support tickets within an hour during normal business hours. Your client can email us directly with any questions or you can work with us to resolve any technical questions your client might have.
We're there for you every step of the way
As a partner, ScreenSteps is there to train you so you will be successful.
Our coaches are here to teach you best practices for authoring content, show you how to create articles, and answer any questions you may have.
Since we are teaching your team how to handle implementation and training events on your own, we meet with you regularly for coaching. Together we will decide how frequently we will meet, but typically we recommend a bi-weekly meeting.
During coaching hours, we go over best practices for training and creating content, show you how to use the authoring tools, and answer questions you have.
Most importantly, these training sessions are catered to your needs. Before we start, we discuss your client's goals and challenges. Then we base the training on those goals.
🔎 Related: 38 ways ScreenSteps benefits contact centers
Would we make a good team?
The power behind every good team is trust.
Each member of the team is focused on helping the other partner succeed. Together we are laser-focused on delivering a client outcome that we can all be proud of.
The ScreenSteps knowledge base software can decrease the cost and pain of adoption, improve training and post-training outcomes, and set your client up for continued training success after you leave the engagement.
Together we can help your clients achieve these benefits. As a partner, you get to determine how much we participate in the implementation and launch of ScreenSteps in your client's company.
If you are looking for a partner that will be there through every step of the process and delivers results, we want to meet you. Set a time for an introductory meeting with a member of our team.
In the introductory meeting, we can talk more about what you are looking for and your clients' specific situations. Then we can determine if we would make good partners for providing knowledge base solutions to customers.