6 Software Tools to Train Your Financial Institution Employees
Quick question for you: What is the right way to load a dishwasher?
If I were to answer that, it would be a perfect game of Tetris where everything stacks perfectly. The glasses are on the sides. The bowls perfectly prop each other up like fallen dominos in the middle. And, for utensils, the knives are facing down while the heads of the forks and spoons face up.
Throughout my life, I've had plenty of roommates and family members who disagree with me. Which means my dishwasher looks like chaos. I hate to break it to you, but there is no "right way" to load a dishwasher.
Follow-up question, what is the right way to train your employees? (I think you see where this is going.) There is no one way to train employees. There are multiple different methodologies and software programs to help you figure out the right training approach for your company.
As an employee at ScreenSteps — a cloud-based knowledge base software company — I've seen how you can reduce training, cut training costs, and increase productivity with the right training tools for you.
The important thing is knowing your options and understanding that you need more than one software to achieve your optimal training plan.
Below, I will first introduce six training tools and how they can help you teach your employees. Then I'll explain how you can use these training tools together to create a powerful training technology stack.
6 tools for training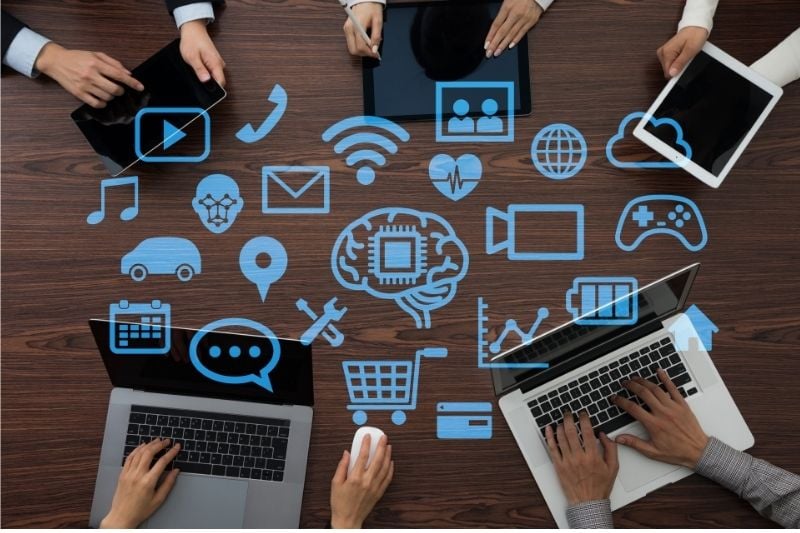 There are many training software options available. Here are six training tools that you can use to help your employees learn how to follow your policies, processes, and procedures.
1. Learning Management System (LMS)
When companies think of training, they often think of an LMS. That's because an LMS is great for helping employees gain a broad understanding of a topic.
The e-learning courses help employees understand some of the background information, the context for processes, and the what, why, and when of how to complete a procedure.
An LMS is great for certain situations:
Self-paced courses and training
Teaching someone who is brand new to a topic
Expanding knowledge for an employee who has background information and wants to get a deeper understanding
Achieving compliance expectations
However, there are limitations to an LMS. While it prepares employees with background knowledge about procedures, it doesn't train employees to DO the procedures. It doesn't teach people how to perform a business procedure (mainly because everyone will forget).
That's why it helps to pair an LMS with some of these other training software options.
2. Knowledge base
Typically, we think of a knowledge base as an employee support tool, but it is just as much of a training tool. Depending on the type of knowledge base you have, you can create, store, and share your business documents across the company.
When you train your employees on how to search your knowledge base for answers and how to follow your documents, they are able to learn as they perform procedures.
It's not going to take them through a learning module. It's for delivering information that they need on the fly.
As opposed to teaching employees big picture topics like you would with an LMS or during classroom training, the knowledge base helps employees in the moment that they need to perform a task. Employees can use it any time they need information about performing a task, understanding a policy, or need tools to solve problems. That includes:
Formulas
Pricing tables
Troubleshooting guides
Job aids
Procedures
Policy
Etc.
For example, an employee could have a question such as: "What price should I quote this customer?" or "What's our policy about offering discounts? Or refunds?"
Then they can reference this information in the knowledge base to answer the questions.
🔍 Related: 5 Tips For Choosing the Best Knowledge Base Software For Your Business
3. Performance support tool
A performance support tool (i.e. digital coach) guides people through a process or procedure. Using a combination of written and visual instructions, it shows your employees where you click and what to do.
It requires less effort from your employees because they don't have to interpret what to do each time. They follow the step-by-step instructions that lead them through the process. And it doesn't require people to come out of the workflow.
But, wait, isn't that the same as a knowledge base?
A performance support tool can be considered a knowledge base of sorts, only a performance support tool is a resource that guides your employees through a process/procedure.
While a knowledge base might just be a repository of information, a performance support tool is much more intentional about guiding people through a process. The goal is for an employee to be able to pull up a resource and use it without having to take a break from work to read and interpret what to do.
Note: Some knowledge base software companies include PST capabilities as part of the knowledge base. In those cases, a separate performance support tool is unnecessary.
Some examples of a performance support tool include Workflow Articles and Checklists. Workflow Articles leverage an interactive question-and-answer approach to move employees through a detailed procedure.
Checklists, on the other hand, serve as a reminder that employees check off as they move through a procedure, ensuring they don't forget an important step.
4. Chat or group messaging
If a worker can't find something or a performance support tool hasn't accounted for it, then people need to ask the expert. How are they going to reach you?
Having a chat or group messaging functionality is good for real-time questions. It's essential for our distributed workforce.
It's difficult to account for every help guide your employees will need and include in your knowledge base. For those moments, your employees need a backup for getting help.
Ideally, you want to have a messaging application that allows you to send notes both privately and in group chats. Some examples of messaging applications you could use include Microsoft Teams, Slack, Google Chat, and others.
5. Video conferencing
Video conferencing platforms are great for refresher training, new-hire training, and instructor-led training conducted virtually.
Some of the perks are that you get to meet people who are working remotely. You are still able to have personal interactions with your expanded workforce working outside of your office.
This provides remote workers a tailored training experience where they have an opportunity to ask face-to-face questions.
Plus, you can record your training. You can share it with someone who missed a training, have employees review the training, or trainers can use it to review and improve their teaching.
Some examples of video conferencing platforms include Zoom, Microsoft Teams, and Go2Meeting.
6. Video creation and hosting services
Sometimes written instructions aren't enough. When words aren't enough, you can create videos to walk employees through processes. In the video, you can provide explanations on how to do certain tasks and show how to complete that task by sharing your screen.
Remember: Employees won't be able to watch a video for all stages of their training. For example, they won't have time to watch a video in the middle of a Workflow Article, especially if they are on the phone with a customer.
You'll want video creation software that makes it easy for you to create videos to show and explain complex procedures. Some video software platforms for recording videos are Camtasia, QuickTime, and Screenflow.
Depending on your video hosting service, you can share your videos in different locations, including in your LMS or knowledge base. But you don't always want your videos in your LMS and knowledge base. Sometimes you need your videos to be a separate, stand-alone resource.
You can host your videos or publicly depending on where you host the videos. Some hosting services include Microsoft Stream, YouTube, and Vimeo.
How many of these training tools do you need?
In the perfect world, you would have an unlimited budget so that you could use all of these training resources together. But that isn't always the case.
Depending on your company's situation, you would ideally use at least two of these situations. The idea is that you have a technology stack that enables your employees to get the training they need in the moment they need it. This helps decrease mistakes in performance.
Many of these training software programs have free applications, such as Google Drive for a knowledge base or messaging. However, these could be sufficient to meet your company's needs.
How all 6 training platforms work together
If you were able to use all six of the training software programs in your company, this is how they could work together to help teach your employees.
Your LMS would help them gain an initial understanding of background information and feel comfortable with concepts.
But, how do you do the procedures and processes? That's where your knowledge base and performance support tool come in. Both of these tools provide help guides to aid employees on the job.
If employee performance is an important aspect of your operations (e.g. customer-facing employees), you'll want more of a performance support tool than a knowledge base.
You can't capture everything in your knowledge base or performance support tool, so you need a messaging application for those things that are not included. If people are asking questions that you've addressed in your knowledge base or your performance support tool, then you want to respond in the chat with the link to that resource.
Video conferencing and hosting play a role throughout whether that is for remote training sessions, self-paced LMS lessons, or updating experienced employees on new procedures. It also helps create a feeling of team and a group.
Video hosting is great for explaining some aspects/concepts that are hard to understand through reading. It helps people connect the dots by seeing it in action.
Discover tools that work with your existing training software
Whether you already have training software you use, you're looking to replace it, or looking for more training options — it is important to have a technology stack of training software.
When you provide more opportunities for employees to learn throughout their careers, they make fewer mistakes and feel more confident in their job. Some software programs help in multiple areas of training.
ScreenSteps works as both a knowledge base and a performance support tool. With ScreenSteps, you can quickly create articles and share them in your ScreenSteps knowledge base. With our Zero Memorization training methodology, it pairs well with an LMS to speed up the onboarding process.
Do you already have an LMS and want to see how it would work with a knowledge base? See how ScreenSteps works together with your LMS to help train your employees.