Improve Patient Scheduling: 15 Knowledge Base Features You'll Want
Must-have features for scheduling patients
These are the features that you can't live without. These are the critical knowledge base features that are the backbone for creating, storing, and sharing your guides to support your patients as they schedule medical appointments.
1. Decision trees
Decision trees walk your reps through different scenarios during a call. Depending on the patients' answers, a decision tree helps reps know what to do next.
These are great for guiding reps through the intake process OR for handling complex situations (e.g. Workers Comp).
2. Formatting options
Writing clear help guides for your knowledge base goes beyond written instructions. How you design your articles makes it either easier or more difficult for your reps to follow the guide.
With formatting tools, reps can quickly navigate through a guide to see the detailed information they need. Some formatting tools you can look for in your knowledge base are:
Text formatting so that specific text stands out (e.g. prompts for what to say, Alerts, Warnings, Tips, etc.)
Expandable sections
Screenshots with annotations
Change the color of table cells
Pop-ups (providing additional information)
3. Keyword search
Keyword search makes it easier for your employees to discover the articles that they need. You should also be able to optimize search by using additional search terms, tags, etc.
This seems like an obvious feature, but many knowledge base options don't have great keyword search nor do they provide ways to optimize search.
4. Search filters

Search filters narrow the content field so that your knowledge base search engine doesn't have to scrap as many articles.
When reps are looking for content related to a specific office, they should be able to apply filters that search only the content related to that specific office. For example, set a filter your reps can check so they are only searching for "Florida insurance."
🔍 Related: 3 easy tips to make your knowledge base more searchable
5. Feedback tools
Nobody knows what is missing from a guide or what is outdated in an article more than the end-users. You'll want others to be able to provide feedback in your knowledge base.
It's easiest to track needed edits when the feedback comes in on the articles as opposed to through a separate email or chat message. These notes easily get lost or forgotten.
6. Fast load time
Your reps are going to use your guides while they are on a call with a patient in real-time. They will need immediate responses when they are looking for a guide.
You don't want a knowledge base that lags or gives you the spinning wheel of death. Find a knowledge base that has fast load times so that it can pull the information your agents need quickly.
Note: Many knowledge bases are simply document libraries. When end-users need to download and/or open a document, it can add time (especially if they keep opening up the wrong document). Make sure to get a knowledge base where the articles are web pages, not document files.
7. Reporting
How are you going to know if your knowledge base is working if you can't track how your knowledge base is used? Each knowledge base software has varying levels of analytics, some more detailed than others.
Some key metrics for measure how effective your knowledge base content includes:
What content is being used to schedule patients?
How often is that content being used?
Which agents are using your content?
What are agents searching for?
Are agents typing in search terms and pulling up zero results?
Are agents typing in search terms but not clicking on any results?
8. Permissions management
Unless you want everyone in your company to see all the available resources, you will want a tool that manages viewing permissions. Then you will be able to control what content appears for specific reps depending on their role.
This helps keep content organized as well as makes it easier for your reps to find the guides that apply to their roles.
9. Hyperlinks
When you write your policies, processes, and procedures, it's important to provide enough information to support your reps through a call without overwhelming them with information. You can shorten your guides by including hyperlinks.
By linking to other policies, processes, and procedures, you can write clearer guides that are easier for your reps to follow.
​​🔍 Related: How Long Should My Written Company Procedures Be?
10. Notifications
When you update your help guides, you need to let your reps know about the changes. Having a knowledge base with a notifications feature keeps the information in one centralized location.
Since it is in your knowledge base, your employees don't need to check email throughout the day to make sure they are always up to date.
Bonus features: These are features that would be nice to have
In an ideal situation, your software would have all the features you needed. Often when you shop for software, one company will have all but a few features. Then, when you look at another company, that company will have missing features but be missing some others.
This list includes features that it would be nice to have, but it doesn't interfere as much with functionality and performance if you don't have these features.
1. Create groups
If your reps specialize — in a specific region or for specific procedures — you will want a knowledge base that allows you to group reps according to their roles and responsibilities.
For example, you can send out notification messages to specific groups who need them. So a message saying, "Location Y is no longer accepting Medicaid," should only go to reps supporting Location Y.
Or you could optimize search, viewing permissions, and filters by groups. Not all grouping features work the same. Some things to consider when looking at the grouping function include:
Can you control viewing and contributing permissions at a group level?
Do usage reports show you which groups are using your resources and which are not?
🔍 Related: 8 Techniques to Make Scheduling Healthcare Appointments Easier In Your Call Center
2. Sidebar navigation
Sidebar navigation allows you to navigate to other sections that are related. The sidebar navigation provides suggested articles and anticipates what the next step might be for your reps. They can quickly access other learning assets related to the area being scheduled.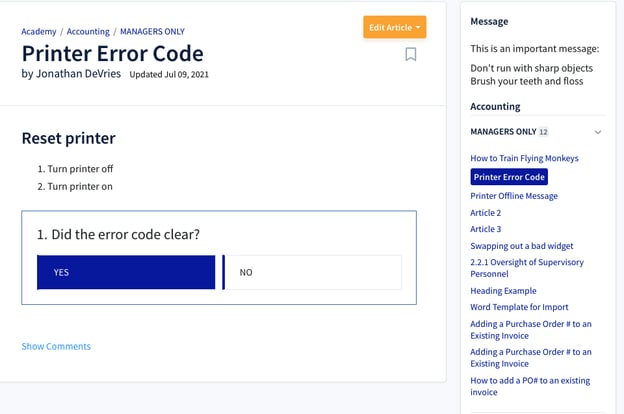 3. Responsive design
Between the help guides, scheduling programs, and other information on the computer screen, your reps' screens often get crowded. They need to be able to minimize windows and still see everything they need.
Think of responsive design as a desktop version of the website vs. a mobile version. Designers create versions for both platforms to enhance the user experience.
Responsive design enhances your reps' experience. It adjusts the size of the browser so that your reps can still see all the information they need while putting it beside another open document or webpage.
Whereas, if you adjust an Excel spreadsheet, it doesn't respond. Instead, you see fewer cells and end up needing to scroll side to side in order to see all the text you need.
4. Content review reminders
Your company is constantly growing, improving, and changing. This means that your knowledge base should be updated regularly to reflect those evolving operational processes and procedures.
When you have hundreds or even dozens of articles, it can be challenging to track what you've reviewed and when you reviewed an article last.
Some knowledge bases have the ability to set reminders to review knowledge base content. Set up a reminder to review articles and confirm they are still 100% accurate.
5. Bookmarks or favorite articles
Whether the company calls it "star," "favorite," "bookmark," or something else, this tool allows employees to mark articles they use regularly. They can then access these articles quickly in a designated folder. It makes it easier to find. Plus, it saves your reps time.
How to choose a knowledge base with the tools you need to support your reps
Each knowledge base company has a variety of features they offer. When you know what offerings are available, you can search for a company that provides the crucial tools you need for your patient scheduling department.
At ScreenSteps, we provide a wide selection of tools to help companies document their procedures faster as well as make it easier for reps to find the guides they need.
One of our customers' favorite tools (and unique to our company) is an integrated screen capture tool. You can grab a screenshot and it automatically uploads it into your document. Plus, it is simple to add annotations (i.e. arrows, highlights, etc.).
ScreenSteps is one of many types of knowledge base software companies. Want more tips on how to choose a knowledge base for your company? In this article, we provide 5 decisions to make before picking a knowledge base.