How to Write an Intake Script for Scheduling Patients (6 Tips)
1. Determine who (or what) will be the initial contact for callers
Your intake script will vary depending on what kind of phone system you have in place.
Before you dive into writing the script, determine what the initial contact will be with the caller. Will it be an Interactive Voice Response (IVR)? Or will the first point of contact be with an agent?
Depending on your phone system, your agents' intake scripts will have different launching points.
Interactive Voice Response routing
IVR is an automated machine that answers the call. Essentially, it is a digital receptionist. The IVR determines the purpose of the call. That means your agents have a new starting point for their intake script, which is for a specific scheduling scenario.
If you use an IVR or auto-attendant/digital receptionist, then your intake scripts can be very specific.
For example, if you are doing skills-based routing, you can create an intake script specifically for those reps who are scheduling patients that need refills for their medication. Then you can skip the questions that are trying to identify what a patient is calling about.
Agent routing
If you don't have an IVR or an auto-attendant/digital receptionist, then your intake script will need to be more comprehensive and include questions that help identify what the patient is calling about.
Your agents will need to determine the purpose of the call and then move into the steps to schedule those specific appointments.
2. Provide exact language that reps can say
Include key phrases, questions, and talking points that your employees can recite verbatim from your script. Even if they don't use that language every time, it gives them ideas for what can be said (and what needs to be said).
The point isn't to make a script like a nightly news anchor reads off of a teleprompter. The idea is you are providing a resource that is easy to read in the moment that your agents are on a call.
When you provide phrases they can use while on a call, it makes it easier for anybody to follow. Your reps don't need to translate your notes and come up with how to ask the questions each time because those questions are already written out for them.
It makes it efficient for them to move through a call and get the caller through the scheduling process succinctly.
If compliance is critical for your company, then having exact language is essential. Identify language that is required for reps for compliance purposes. Include that phrasing in your scripts.
Will my agents sound robotic with a script?
No, your agents will not sound robotic with a script. At first, new agents might sound a little monotone, but with some coaching, they can learn to express their personalities while following a script.
Also, you aren't always getting experienced reps who are capable of making decisions while they are on the call. Plus, when agents first take calls, they are nervous. Often, their mind goes blank, so you want something they can fall back on. That's the benefit of a script.
Instead of thinking of it as a script, you can use the term "call flow." This emphasizes that your reps will be going through a flow and take control of the call so that it's handled in the most effective, efficient, and consistent manner possible.
It's easier to coach reps to sound natural while following a call flow than to get them to memorize all the nuances of handling a call. You are providing them with a resource that enables them to make the call flow in the best way possible.
3. Order the questions a rep should ask to make the call more efficient
It's no good to get through an entire call only to realize at the end that the patient should have been scheduled with Workers Compensation in mind.
You want your reps to handle the call effectively and efficiently. That means you want to get from Point A (the start of the call) to Point B (the end of a call where the patient is scheduled to meet their needs) in the most logical and direct way.
Organize your questions and actions in a way that enables reps to identify potential challenges upfront.
Is there a situation that means you need to take a different approach to schedule patients? What variables put these patients in a different category? Front-load these questions in your script.
For example, if the process for scheduling a patient who was seen over one year ago is different for a patient who was seen a month ago, then identify that variable early on. This helps you avoid unnecessary actions and questions that aren't applicable (and unintentionally skip over steps and questions that are required).
4. Provide branches in the script/call flow for unique situations
Provide branches in the script/call flow that guide reps through what to say and do for unique situations. Essentially, this is a variation of a decision tree. Writing a script/call flow is a more detailed approach to providing your reps with information to help schedule patients.
If your reps identify that a caller is using Workers Comp, then you need to provide the steps and questions that need to be completed for Workers Comp. Don't leave it up to the rep to figure it out.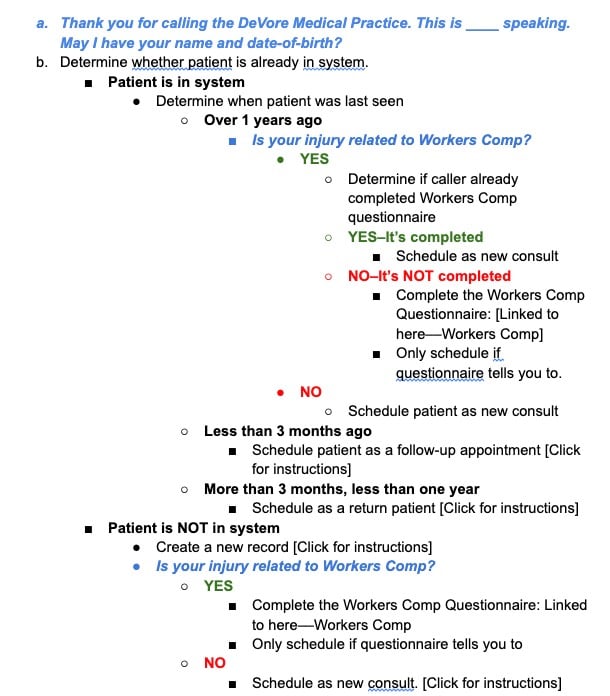 Include 95-99% of what a rep needs to handle the call in the intake script (although you can link to the detailed steps if necessary). This enables your reps to provide a consistent experience for the caller.
NOTE: This is the difficult part of writing a script/call flow in Word. Your reps have to skim to jump around the article to the part of the script they need for these specific situations (as in the example above).
5. Incorporate your QA expectations
If you expect that reps will NOT schedule patients until they receive authorization from a specific group (e.g. workers comp), then include that in the script. You do this by incorporating your QA (Quality Assurance) expectations and questions into the script/flow.
By putting the QA elements in your script/call flow, you ensure that your reps are meeting quality expectations, and giving your callers the best possible experience.
If the QA expectations aren't met, you can evaluate the script/flow to see if it needs tweaking. If the script/flow is good, then you can work with the rep on following the steps.
Don't require your reps to memorize the questions, variables, phrases, or steps that must be performed. The purpose of your script/flow is to help prompt your reps and ensure that they don't miss any important information or steps.
📽️ Watch Related: How Can I Improve Call Center QA and CSAT Scores With Better Guides?
6. Keep the call flow simple
Include ONLY the information that reps absolutely need to handle the call. You don't want your call flow to be so crowded with information that your agents can't follow the directions. Excessive information is distracting — not helpful.
Leave out phrases like, "Respond with empathy." That kind of feedback should be provided during training or coaching. If you include those kinds of prompts, it's not clear what the rep should say or do. They become more distracting than helpful.
Remember that the script is not the only touchpoint reps will have with the information. They can have additional training (self-paced or classroom), they'll receive phone coaching, etc. to gain a deeper understanding of the concepts.
The purpose of the script/flow is to provide them with the words and steps to handle 95-99% of the calls that come in.
Use Workflow Articles to clear intake scripts
Writing scripts is challenging. When you know what to include in your intake script and where to get started, it helps streamline the process and cut down your average handle time.
ScreenSteps makes it easy to create intake scripts that include decision trees, step-by-step instructions, prompts for what to say, and link to additional information.
Using Workflow Articles in our cloud-based knowledge base, you can walk your agents through a call step by step. They won't need to hang up the phone while they are on a call to look up information or directions.
Want to see how a workflow article could help make your scripts clearer for scheduling patients? Watch this video for 5 tips for writing workflow articles for your employees in ScreenSteps.