Call Flow Diagram Tools: Pros and Cons of the 5 Best Flowchart Tools
Every call center manager knows that agents need resources to help them get procedures right on their calls.
What agents might not realize is that writing those procedures and call flows can be time-consuming — especially if you don't have the right tools.
And, there are good ways to write call flows and better ways to write call flows.
When you write call flows, they can either be written out like a script in a basic Word document or they can be flowcharts that visually show the decision tree path.
Deciding which tools are the best for diagramming your call flows depends on if you want a flowchart view or a step-by-step procedure.
As the Director of Transformational Services at ScreenSteps, I've been introduced to a variety of call flow diagram tools as I've helped companies transfer their information to their ScreenSteps knowledge base.
While I obviously believe writing workflow articles in ScreenSteps is the best way to create a call flow, I recognize that that isn't always the best option for every company. So, I'm going to share 5 of the best diagramming tools for creating call flows as flowcharts.
That way, you can compare these call flow tool options side-by-side and decide whether this is the best approach for your company.
1. Miro
Miro is first and foremost considered an online whiteboard collaboration software. Typically, it is used for brainstorming live in remote meetings.
Because Miro has a variety of brainstorming and mind mapping templates, they have a collection of workflow layouts (including a flowchart) for mapping decision trees and call flows.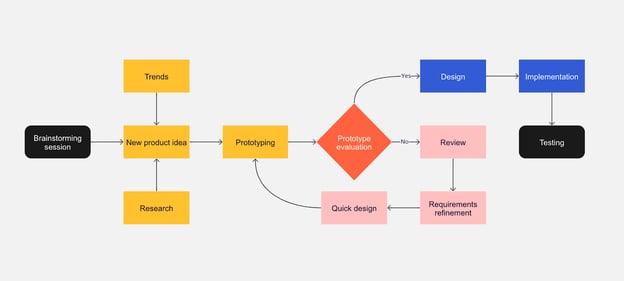 Pros
There are many advantages to using Miro for your call flow diagram tool.
It is cloud-based software, so it is easy to collaborate remotely on a call flow. Multiple content authors can be working on the same flowchart at the same time. Plus, you can leave comments and feedback on the board for areas that need to be corrected or updated.
If you want design flexibility, Miro offers a variety of different shapes for organizing your flowcharts. There are more than diamonds and squares for design elements.
For sharing, you can either share with teams and individuals with Miro accounts or you can share a public link for each flowchart created in Miro.
Cons
One of the downfalls in sharing with Miro. If your call center agents aren't writing flowcharts, you most likely will not need them to have a Miro account.
While you can share links with all your agents, as mentioned above, that means you need an alternate way to organize your flowcharts on Miro.
Alternatively, you can export your Miro board as an image, PDF, spreadsheet (CVS), or Google Drive. Once downloaded, you can no longer edit these flowcharts in the cloud. You have to re-export and share them with your team every time you make changes and updates.
Because of the flexibility of the templates and tools, your flowcharts could get messy quickly if you don't know how to do flow mapping.
Price
Miro has a free plan that allows teams up to three boards and limited tools. After that, Miro has plans starting at $8/member per month.
2. Lucidchart
Lucidchart is diagramming software that is meant to help teams organize their ideas. The application helps teams map out their plans, processes, and procedures.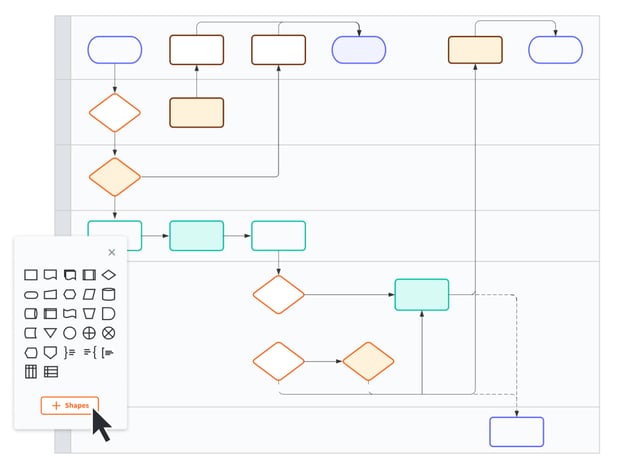 Pros
The cloud-based software makes it easy for teams to collaborate. You can work on the same flowchart at the same time, see edits your teammates make in real-time, and provide feedback to co-workers with comments.
Lucidchart has a variety of different shapes for flexible design. In general, the simple tools — shapes and connecting lines — make it fast and easy to design flowcharts. It even has templates to make getting started easier.
There are a variety of ways to share Lucidchart with the end-user. For employees with a Lucidchart account, you can share the call flow flowcharts with them in Lucidchart. You can set viewer permissions and editing permissions by individuals or user groups.
You can also export flowcharts as PDF, image files, and SVG vectors.
Lucidchart integrates with a variety of tech industry apps. Some of those include Google, Microsoft, Atlassian, and more.
Cons
Lucidchart is a new software that your employees will need to learn how to use. It will take training and time to master and decide exactly how your company wants to use Lucidchart.
While Lucidchart has a variety of sharing options, it can be difficult for your call center reps to find the call flow they need and follow it while they are on a call.
Price
Lucidchart has a free plan, but you are limited to 3 documents. Team plans start at $9/user per month with a minimum of three users.
3. OmniGraffle
OmniGraffle was created so teams could build graphics and visuals for their business. It helps break down complicated ideas and explain them with a visual layout.
Pros
OmniGraffle's strength is its design. It offers flexible design options. With layering and design tools, you can control the layout and align your flowchart perfectly. Some of the tools include a pen tool, a shape tool, and more.
The functionality of OmniGraffle is set up well for Mac and iPad users. The design works similarly to Apple products, which makes it a good option for those familiar with using Apple's products.
Cons
There are no templates for flowcharts. Also, flowcharts aren't automated like in other apps. However, you can create a flowchart with the tools in OmniGraffle. It may take you more time since it isn't automatically set up for designing flowcharts.
Also, not all the tools are part of the initial software download. You can, however, download more tools from the software's tool library.
Price
OmniGraffle has a variety of different subscriptions and purchasing options. Team subscriptions start at $99.99 annually. A 14-day free trial is available.
🔍 Related: How to Make a Flowchart For Your Call Center Agents (5 Best Practices)
4. Microsoft Visio
Microsoft Visio is software that is specifically created for creating flowcharts that also helps business organization charts, office floor plans, brainstorming, and other diagramming tasks.
While Visio is a Microsoft application, it is not included as part of the Microsoft 365 suite.
Pros
As a program dedicated to flowcharts, Visio has a refined selection of shapes and design tools to simplify creating flowcharts.
Visio has plans that allow you to store your flowcharts in the cloud. There is both a website app and a desktop app.
If you are used to Microsoft Office applications, then you won't have a big learning curve with Visio. The interface of Visio follows the setup of other Microsoft applications.
Also, you can collaborate on a Visio flowchart at the same time from different locations. Team members can only coauthor after sharing the file and if they are working on the same version of Visio (i.e. desktop app or web app).
Cons
Sharing can be complicated. If your team members all use Microsoft 365 for business, you can upload your Visio flowcharts to OneDrive or SharePoint. Team members can view the diagram without having a Visio account.
If your team doesn't have Microsoft 365 or you use a different document library or knowledge base, you will need to export your flowcharts.
Then you will have to upload them to your shared drive or send them to your team. This makes it more difficult to keep the most up-to-date flowcharts in your employees' hands.
Price
There are multiple options for purchasing Visio. A one-time purchase of Visio costs $309.99 for the standard version or $579.99 for a professional version per license.
Another purchasing option is picking from one of Visio's two subscription plans. Plan 1 costs $5/user per month. Plan 2 costs $15/user per month and includes more features.
You can try Visio for 30 days for free.
5. Microsoft Excel
The primary purpose behind Microsoft Excel is to organize data into spreadsheets and charts. In addition, Excel has design elements and templates that allow users to create flowcharts.
Pros
Most likely, your company already has a Microsoft 365 business account. This means the application is already on your computer and it won't cost you anything additional to purchase new software.
Like with Microsoft Visio, you are probably already familiar with the tools and systems available in Excel.
Cons
While you can create flowcharts in Excel, it is not the main goal of the application. You may need to learn new skills to build your call flow diagrams. To create flowcharts, you will insert illustrations into your Excel spreadsheet.
Organizing and designing your flowchart can be difficult because the design is not the focus of Excel.
Also, it can be difficult to collaborate with others. If you don't want to have to email new drafts back and forth, you'll need a Microsoft 365 subscription so that you can share documents on the cloud.
Price
Excel is included in the Microsoft 365 suite of applications, which comes with a suite of Microsoft's content creation software. The basic business plan, includes Excel, Word, PowerPoint, Teams, Outlook, Exchange, OneDrive, and SharePoint.
Microsoft 365 plans start at $5/user per month.
Make your flowcharts interactive with workflow articles
If all you want to do is create flowcharts for your call flows, this list has some of your best and most affordable options. However, if you want call flows that are easier for agents to follow while they are on a call, you should consider interactive call flow options.
Want an interactive experience for your call center agents?
When you create call flows in your ScreenSteps knowledge base, you can walk your agents through each step of a process. You ask questions in the workflow articles, they click their answers, and it automatically takes them to the next step.
This helps agents reduce mistakes and increase first call resolution. Plus, these articles are quick and easy to author.
If you are curious to see how authoring flowcharts in ScreenSteps is different, watch this 3-minute video about creating Workflow Articles.