Employee Training Program: 3 Phases of Find & Follow Training Framework
When you imagine onboarding new hires or employee training, what do you think of?
Most likely, it involves PowerPoint presentations, lectures, demonstrations, memorizing a lot of information, and assessments. That is traditionally how companies have trained their employees.
However, those training frameworks fall short in supporting employees and preparing them for their day-to-day tasks. But, training doesn't have to be that way.
In fact — in my observations as a content and training coach at ScreenSteps — those approaches aren't even the most effective way to train employees.
Traditional training frameworks aren't realistic in that they expect learners to retain every word, every click, and every decision that was discussed during training. In other words, those training frameworks expect employees to be infallible.
At ScreenSteps, a knowledge base and training software company, we've developed an employee training approach based on how people actually learn. It prepares employees to do their job. And the good news is that anyone can implement this approach in their company.
The Find & Follow Training Framework focuses on doing hands-on activities, providing resources that employees can use during and after training, and providing continuous learning opportunities after training is over. It helps employees build on their initial training and make consistent improvements.
Read through the three phases of the Find & Follow Training Framework to learn more about the framework and what resources you'll need to prepare. This will help you determine if your employee training could be upgraded with Find & Follow techniques.
Note: The Find & Follow Training Framework can be used in onboarding new hires, cross-training, and other forms of training. You will repeat the 3-phase process for each area of learning you teach.
1. Provide foundational explanations for each area of learning
The first phase of the Find & Follow Training Framework is to have your employees gain a foundational understanding of the area they are learning about. This is not your "Welcome to the company" presentation. It is an overview of the context they will need to understand.
These foundational explanations introduce your new hires to the topic they're learning about and help provide some context. Employees are becoming familiar with the terminology that will help them with a procedure.
This information sets your new hires up for more hands-on training.
If you're training new hires, you will likely cover many areas (i.e. merchandising, invoices, rebates, scheduling, etc.) and you'd have a foundational explanation for each one. If you're cross-training, you may only have one or two areas you're covering and only need a short explanation for each one.
Phase 1 example
For example, if you are training employees on processing purchase orders and they know nothing about what a purchase order is or how to process them, your foundational explanation might include a visual story or analogy that helps employees understand the high-level process of when a purchase order comes up and how it's used.
That's it. You don't get into the clicks or the decisions. You just provide enough context so that employees go, "Oh, I get what this is."
How long does Phase 1 take?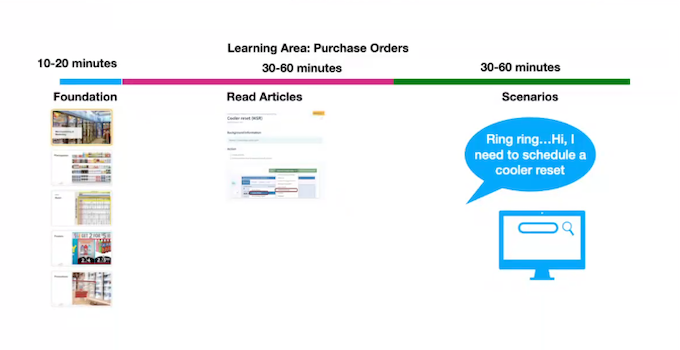 ×
There is no hard set rule for how long each phase takes. In Phase 1, the amount of time is dependent on how new the concept is to the learners.
Generally speaking, these short explanations can either be a presentation that takes no more than 10-20 minutes, or you can create mini self-paced foundational courses that employees complete. (Again, these shouldn't last more than 10-20 minutes.)
Each phase seamlessly moves into or overlaps with the next phase.
Foundational courses vs. foundational training: Where to use each?

If you are only doing new-hire training for a specific role once every few years and there are only a handful of new hires, then you probably don't need a course for each learning area.

But if you are running several new-hire classes throughout the year for the same role or you are onboarding dozens of employees at once, then creating foundational courses for each learning area will make your program more consistent and result in less work for you in the long run.
Assets to prepare
Before beginning your training program, you first have to prepare materials that help you run a good foundational explanation. This involves:
Deciding what information to include (and not include)
Choosing if you will use PowerPoint, create videos, or do both
Writing the scripts (it helps you stay focused)
Putting together graphics
Recording videos (if necessary)
Coming up with some knowledge check questions
Anything else you want to include
You won't have all of these elements in your presentation/course, but these are some of your options.
🔎 Related: Improve Employee Performance: When to Use an LMS vs Knowledge Base
2. Train on how to use the digital guides
After new hires have gone through the foundational explanations, they are ready for classroom training. When I mean classroom training, it doesn't literally mean in a classroom. It can mean in-person instruction or it can be a virtual classroom (i.e. Zoom, Microsoft Teams, Google Hangout, etc.).
This is where you get into "how" your employees will do the job. During classroom training, you will first teach new hires how to use your systems and where to access digital guides and job aids.
Some important topics to cover in your classroom training include:
How to navigate your knowledge management system
How to search for and find specific guides and articles
How to read the digital guides (ex. Italics are things you say vs. regular text is what you do)
Note: It is best to have a central hub for all of your company knowledge and resources (i.e. policies, procedures, reference sheets, etc.). Ideally, you will have a one-stop shop for your information like a knowledge base, document library, or other knowledge management system).
How long does Phase 2 take?
Once again, the amount of time Phase 2 takes is dependent on a few factors:
1. How familiar people are with following procedures and job aids
2. How familiar people are with searching systems (or using Google)
Employees who are more familiar with Googling things to find answers tend to have an easier time learning to use your knowledge management system than those who are more accustomed to asking others when they have a question.
In general, you can estimate about 30-60 minutes for this phase.
Assets to prepare
You need to prepare digital guides/job aids for your employees. These digital guides are not training guides. They are the actual job aids, procedures, checklists, or workflows that they will use when they leave training.
Think of these like food recipes. They aren't going to be memorized. These guides help employees "DO" something like a procedure. Or the guides provide information employees need like a table of codes to be used when adding notes to a patient record.
They are designed to help employees complete tasks.
These resources could be:
Policies
Standard operating procedures (SOPs)
Call flows
Call center scripts
Reference sheets
Etc.
To determine which digital guides you need to create, you'll want to hold a content planning workshop. This will help you prioritize which content your need to write. Read this article for tips and an outline on how to run a content planning workshop for your business.
Tip: As you write the guides, follow a style guide to keep the articles consistent no matter who writes them.
3. Practice activities where employees find and follow the digital guides
Now that employees have a basic understanding of the topic and they can find and follow your guides, you are now going to run through dozens of activities that mimic realistic scenarios that they will encounter when doing their job.
Often, this is referred to as scenario-based training. With scenario-based training, your new hires role-play scenarios they will do as part of their day-to-day jobs.
At first, you will walk through these scenarios as an entire class. Then you will break into smaller groups. That's when you move into the third and final phase.
As they go through those scenarios, they will pull up job aids and guides to help them. These are the same job aids they will use after training. That way, they are familiar with using the resources they will reference on the job.
Throughout the process, you will add more complex procedures to your training. They will learn how to do these procedures by practicing finding the correct digital guides in your system and following them.
How long does Phase 3 take?
This phase is where you spend the bulk of your time.
While the amount of time you will spend in the phase varies based on how many procedures are part of this area of learning and how complex those procedures are, Phase 3 should take around 30-60 minutes.
Assets to prepare
For the final phase, you need the digital guides you created in phase 2. You will need to make sure your new hires have access to all of these guides and the system you store them in. They will be using these guides every day in the final phase of training.
You'll also want to prepare a list of scenarios that your employees will encounter on the job. If you're good at improvising, you can come up with scenarios on the spot, asking different questions related to the digital guides.
If you're not good at improvising, then create an extensive list that starts with simple scenarios and works up to more complex scenarios. The scenarios will progressively get harder as your trainees feel more comfortable completing procedures.
You will also need a sandbox environment or example content employees can use to practice performing tasks.
Create resources that seamlessly connect training and day-to-day work
Designing the perfect new hire training program is challenging. You want to set your employees up for success, but everyone learns differently and at different paces.
With the Find & Follow Training Framework, you both create onboard training resources and continuous learning job aids that support your employees throughout their careers with your company.
ScreenSteps helps employees become more knowledgeable, consistent, and efficient in 30 days or less. That's by using a ScreenSteps knowledge base and training using the Find & Follow Training Framework.
A ScreenSteps knowledge base is a fast and easy way to create those resources. You can design guides in 75% less time with ScreenSteps' simple yet powerful authoring tools. And the guides are easily accessible to employees. They can find them in as few as two clicks.
Start planning your digital guides and job aids today. Download the free Find & Follow Workbook to help you decide which content your need to create for your training.