How to Run a Content Workshop For Your Knowledge Base
You've decided to get serious about knowledge management. And you have (or are looking for) knowledge base software to prove it.
But, just as you begin, you find you want to stop because, where do you begin? While the idea of gathering all your company's information and resources in one location is thrilling, it is also intimidating and overwhelming.
Should you just start collecting all of the PDF user guides and Word documents and putting them into folders? Should you upload all your files to your knowledge base?
Hold your horses! As anxious as you may be to fill your knowledge base with resources, it will save you time and energy if you start your knowledge base with a clear content strategy.
As a content coach for ScreenSteps — a knowledge base software company — I've worked one-on-one with companies as they've begun documenting their policies and procedures for their ScreenSteps knowledge base sites.
Through those experiences, I've learned your knowledge base is not a collection of knowledge. It's an organization of useful information that employees need to perform their jobs. This means you need a plan to convey that information.
Before you collect any bits of information, go through this seven-part content workshop process to plan what goes into your knowledge base.
Step 1 – Determine who your knowledge base is for
Your knowledge base software isn't your childhood piggy bank filled with pennies that will never be used to purchase anything. You don't just purchase a knowledge base, fill it up with documents, and forget about it.
It will be a living, changing, and evolving part of your company. People will use it in their day-to-day tasks. Determine who those people are.
Who is your knowledge base for? Are they your customer service team? Are they part of your processing department?
Keep them at the front of your mind the whole time you are creating your knowledge base content strategy. Think about what their experience would be like using your help guides.
Remember what they will be using the knowledge base for. Is it to help customers? Is it to perform procedures without making mistakes?
📽️ Watch Related: 5 Common Mistakes Trainers Make Writing Operating Procedures [VIDEO]
Step 2 – Select your committee members
Who needs to be part of the discussion for deciding what content goes into your knowledge base?
What often happens is management gets put in charge of knowledge management. The problem with that is they aren't sure who the end-users are nor what pain points the end-users are experiencing.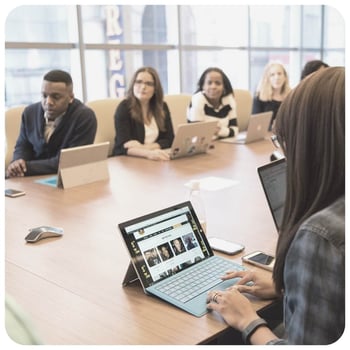 Your knowledge base content workshop should include both management and those on the frontlines.
What makes a good representative? They know what it's like in the trenches. They know what challenges the end-users are experiencing while doing their job and looking for help.
The purpose of the knowledge base is to help employees and end-users get unstuck and to help them perform procedures consistently and accurately 100% of the time.
These representatives are going to help you identify areas when employees get lost or confused. Select people who are with the end-users and are seeing what they're struggling with first-hand.
Identify representatives from different departments who can recognize:
Questions end-users are asking each other
Mistakes end-users are making
Points/explanations/instructions that are confusing or unclear
Step 3 – Collect information
The goal of this project is to identify areas when your employees are getting stuck. Getting stuck means employees are reaching a point in a process where they don't have the knowledge or training to know what or how to do the next step.
Identify questions being asked
Collect questions employees have asked (or have been asked) during the past 3-6 months. Consider this your research project.
If you don't know what types of questions are being asked, then spend the next 3-6 months collecting those questions. Sort through emails, chats in Teams (or Slack or Skype — whatever messaging app you're using).
Identify tasks being completed
Another way of thinking about this is to identify tasks that people are doing on a daily basis. They may not ask questions about those tasks, but you're identifying what people do for their job (e.g. send out invoices, troubleshoot error code 24532, sign up a customer for a debit card).
Your committee should be able to come up with a list of questions/tasks that employees need resources to help them with.
Ultimately, you'll want to create knowledge base articles that can answer these questions, guide them through various tasks, and help employees get unstuck.
Collecting this information doesn't need to be a heavy lift and it doesn't have to happen in one day.
Create a document where you can write down these questions in one location. This could be a shared file so that all the members of your knowledge base committee can contribute the questions they hear from their teams.
Form a habit of opening this document and jotting down a note. It will take seconds and save you time in the future when it comes to brainstorming scenarios.
Step 4 – Bucket the questions and tasks
Now that you've done your research, you're ready to organize the information into buckets that will help you come up with a plan. You have your committee in place and the first set of questions/tasks, you're ready to begin.
Meet with your committee to go through the list of questions/tasks you've collected. This is a big brainstorming session where you organize those questions people are asking and the tasks that are being completed on a daily basis.
Your goal is to categorize the content you need to create to launch your knowledge base.
Distribute questions in three categories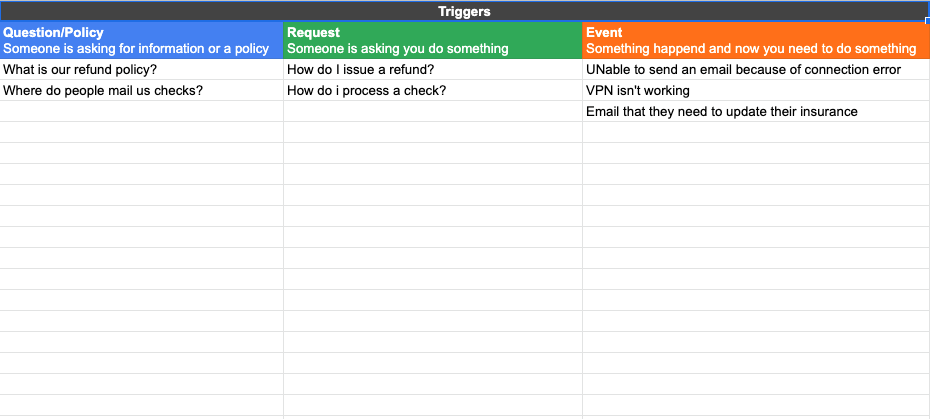 During this session, you're going to bucket the questions/tasks into three different categories:
1. Questions/tasks related to policy or information (Ex: What can we do? What should we do? When does X happen? What are the product specifications? )
2. Requests/questions/tasks related to procedures or doing something (Ex: How do I fill out a loan application? How do I exchange a defective product for another product?)
3. Events that happen where people get stuck (Ex: VPN isn't working, a notice comes through saying a customer account is about to get canceled).
Download this free workbook template. It will help you organize these three categories into three columns for a smoother brainstorming session.
Note:

If you need to merge tasks and questions you can. For example, if somebody wrote down the question, "How do I set up a new customer in our system?" and somebody else wrote down a task, "Set up a new customer in our system," then that should only be one entry.

The purpose of this step is to identify what kind of content needs to be created.For questions/tasks about the procedure, you'll need a how-to guide. For questions/tasks related to information, you might only need a table or a bulleted list with, well, information.
Step 5 – Perform a gap analysis
You should now have a list of questions where people get stuck and tasks that people need to perform. Once you have your list, it's time to audit them to see if you already have resources that address them.
The gap analysis will help you determine what content needs to be created or updated.
For each question, you are evaluating two things: (1) if you have existing resources and (2) if those existing resources are up to date/complete.
1. Do you have existing resources?
Most likely, you have some policies and procedures already documented for your business. You don't want to be recreating content you already have.
In this step, you are merely asking, "Does a document exist?" If it does exist, you'll want to note in what form the document exists. Is it in a PDF guide? Spreadsheet? Sticky note? Where would your employees find the answer at this moment?
Mark these details in your workbook underneath the "Planning" tab. Make sure you mark the questions where there is no resource available. You'll need to write these documents from scratch.
This will help you make plans for migrating or uploading your resources to your knowledge base.
2. Are existing resources up to date or complete?
Now that you know whether a document already exists, you can now evaluate the quality of your policies and procedures. Ask:
Is the information in this policy or procedure accurate?
Is the information up to date with the company's most recent policies?
Is vital information missing?
Are steps missing in a procedure?
Could my employees use this guide to complete a task without asking additional questions?
Determine areas of improvement for the existing resources. Evaluate them on if they are:
Easy to read (i.e. have visuals, succinct explanations, etc.)
Easy to locate via search (i.e. Titles are relevant to what's being searched for)
Completely answer the question (i.e. don't skip steps)
Note: If you are using our free content workshop workbook, this is the second tab (titled "Planning") on the document. You'll copy the questions from the initial brain dump in the first tab (titled "Braindump") and fill in the audit questions.
Step 6 – Assign responsibility
Pick a "Process Owner" for each question/task. These owners will be in charge of the resources used to answer the questions. It is their responsibility to update and write the guides and make sure they are added to your knowledge base.
Who is the best person to answer this question? This could be distributed according to the department or individual experts.
Ideally, you'll assign the questions to the subject matter experts (SMEs). If you can't get your SMEs to write the procedures, then your process owner can interview your SMEs to get the most accurate answers.
Distributing the questions helps lighten the load of creating content for your knowledge base and helps you launch your knowledge base quicker.
Step 7 – Determine the timeline
Without deadlines, projects can casually linger forever. You don't want your knowledge base launch to be your never-ending story. After all, your knowledge base is only helpful if it is filled and accessible to your employees.
Set deadlines for your articles. Determine:
When will this article be created?
When will this article be approved and reviewed?
In addition to initial deadlines, you'll also want to set a precedence upfront for how you want to maintain the accuracy of your knowledge base. Maintaining the knowledge base is actually the hard part.
When does this need to be regulated and reviewed? How frequently should each article be reviewed for accuracy and gaps? Establish a cadence for review. Is it every month? Quarterly? Annually?
Have process owners set reminders to review them.
Ready to run a content workshop for your knowledge base?
When you first look at filling your knowledge base with content, it can be intimidating. When you run a content workshop before launching your knowledge base, it helps you get started on the right foot.
Careful planning prevents you from needing to redo the work later and/or your knowledge base not fulfilling its purpose — to support your employees.
Are you wanting more help with your content workshop?
With a ScreenSteps Content Workshop, you get a strategically guided workshop by one of our ScreenSteps content experts. In the four-hour workshop, we'll help your team determine the content you need for your knowledge base and set a plan for launching your knowledge base content.
You don't have to be a ScreenSteps customer to run a workshop. The principles work with developing content for any knowledge base. Talk to a ScreenSteps representative to see if a Content Workshop would help your company prepare your knowledge base for success.