What Information Do You Store in a Knowledge Base? (8 Resources)
There is something so satisfying about a perfectly organized closet.
Maybe that's why Marie Kondo's Netflix special sparked so much joy and Get Organized has people dying to color coordinate.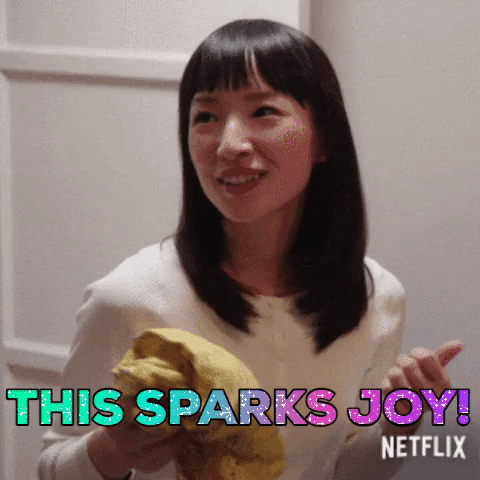 When your things have a proper place, life is more relaxing. You know where to find what you need when you need it.
It's the same for your knowledge base. You want to put the right "things" in your knowledge base "closet" so that your employees can find what they need. (And you can prevent your knowledge base from becoming the junk drawer.)
So, what is the right information to store in your knowledge base?
Working for ScreenSteps — a knowledge base software company — I've noticed that some people want to use their knowledge base as a dumping ground. In reality, you want to fill your knowledge base with resources that help employees when they are stuck.
Below, I share eight documents to store in your knowledge base. This will help you know which "closet" or "drawer" is best for your company's knowledge.
8 resources to store in your knowledge base
The information you store in your knowledge base serves a purpose. It's information that:
People need to use in their life
Needs to be referenced when doing operational tasks
Tables
Charts
Lists of information
Here are eight resources that you should store in your knowledge base so your employees have access to them to perform their jobs.
1. Forms
Depending on your business operations — whether you are a bank, product, or other company — it's most likely that your employees have forms they need to fill out when completing certain assignments. Employees need these as part of the operational tasks.
The purpose of a form is to gather all the essential information to perform transactions, complete orders, etc.
Store your forms in your knowledge base so your employees have quick access to them.
2. Reference guides
Reference guides are a good way to summarize and consume logistical information. Agents can skim these collections of information to find the tidbit they need to answer their questions.
Typically, reference guides are presented as:
You would use a reference guide to look up quick facts and information. For example, your employees could look up alternate locations for costumers to make returns. Or they could see the cost to upgrade a customer's internet service.
3. Policy
A policy outlines the rules and regulations for your company. These are the standards by which your employees live and work.
While a guide is similar to a reference guide, it's more a collection of what employees can do or what can be done is specific situations.
Your employees will use policies to obtain a quick yes-or-no answer or explanation. One example is figuring out when a customer can receive a refund.
Policies are typically written as a standard article, like on Microsoft Word or Google Doc where is essay-style text.
4. How-to guide
A how-to guide is a step-by-step explanation of how to peform a procedure. It walks your employees through each step of how to DO specific tasks.
The things they need to "do' can be something as simple as what and where to click on a screen to more complicated procedures where they walk a caller on how to troubleshoot why a device isn't working properly.
Troubleshooting guides are common how-to guides as are any procedures that can be explained in a consecutive order (i.e. step 1, step 2, etc.). These guides enable reps to perform procedures on their own that they may not have done before.
Typically, your how-to guides would included annotated screenshots. Using screenshots allows you to show your employees what to do, not just tell them.
You can create how-to guides as decision trees in the form of flowcharts, standard text articles, or software-based workflow articles.
How-to guides are most powerful as interactive workflow articles because they take an employee through a procedure one step at a time. It shows them where to click and breaks a complex procedure into short, easy steps.
5. Checklist
Checklists are used when your employees just need a quick reminder of everything they need to do. They are a good way to support employees when they are completing a process. A process encompassing multiple procedures (sometimes as many as 10).
When your employees know most of the background information and how to do it, they don't need a step-by-step guide. They need quick reminders to tell them which actions to take and in which order.
Checklists are typically used in situations that don't involve complex decision trees. Also, checklists are good for procedures that don't change much. That way, you don't have to worry about employees missing changes in updated procedures and making mistakes.
6. Call flow
A call flow is a culmination of all your other resources in one. With a call flow, you are putting a collection of policies, procedures, etc. in the ptimum order that moves an agent through the start of a call to an end of a call.
It is a resource that is unique to a call center.
7. Call script
Call scripts are for your customer-facing team. They help your employees know exactly what to say when they are on a call with a customer.
Often call scripts are used in your call centers with your customer support team or your sales teams.
8. FAQs
Include your frequently asked questions (FAQs) in your knowledge base. These are the most commonly asked questions that your employees ask as well as questions your employees get asked by customers.
Your FAQs are a great way for your end-users to gather general information. Sometimes your employees will need more information or procedures associated with your FAQs. Link out to other policies, procedures, and other documentation from your FAQs.
How is that information formatted?
How you format your information depends on your knowledge base system. Since creating documentation is part of a knowledge base's function, most knowledge base software services offer content authoring tools to create articles.
Often, that includes interactive workflow articles where employees follow step-by-step questions. It's somewhat like a quiz.
Alternatively, some knowledge base systems simply allow you to upload your existing files into your knowledge base. These files could include:
Microsoft Word documents
Google Docs
PDFs
PowerPoint presentations
Etc.
Fill your knowledge base with helpful resources and critical information
Your knowledge base is your one-stop shop for all of your company's resources. Your end-users know exactly where they can turn for answers to their questions.
With a ScreenSteps knowledge base, you have three main ways of writing your knowledge base articles, including interactive workflow articles. Your end-users can access all of the resources they need in as few as two clicks.
Want to know what articles you need to create for your knowledge base? Hold a brainstorming session — also call a content planning workshop — with your team.
Follow these seven steps to host your own content planning workshop. This workshop (with a free downloadable template) will help you decide which articles to make for your knowledge base.