How Should You Write Your Call Center Call Flows? (3 Options)
In one classic fairytale, Hansel and Gretel go on a walk in the woods. They lay bread crumbs as they walk so that they can find their way home.
Unfortunately, the birds and other creatures decide they need a snack, so Hansel and Gretel's roadmap home disappears and they become lost. The siblings are on their own to figure out a way back home.
When you aren't writing your call flows in a way that is easy for your call center agents to follow, your call flows might as well be bread crumbs. Luckily, there are many ways to present call flows. You just need to find the right option for your company.
As a content manager at ScreenSteps — a knowledge base software company that supports call centers — I recognize there is more than one way to create a call flow. The important part is providing all the steps so your agents can bring the caller home (err … I mean resolve the call).
In this article, I'll share three call flow design options as well as provide reasons you may or may not want to write your call flows in that way. Hopefully, this will help you can figure out which will best help your agents.
What is a call flow?
A call flow is any document that helps your call center rep navigate through a call. It is any guide that assists your agents in handling specific types of calls.
You can create call flows for any part of the call, including:
Intake
Policies
Procedures
Troubleshooting
Closing
Outbound calls
Inbound calls
Call flows are decision trees for call center agents.
The purpose of a call flow is to remind your call center agents what to do throughout a call. It provides step-by-step instructions on what needs to be done to complete a procedure.
3 types of call flow design options
There are many different approaches to documenting call center call flows. Some demonstrate the movement of the call procedure by visual mapping. Other call flow design options focus on words and images.
Here are three different types of call flow design options to consider when documenting your contact center's call flows.
1. Flowchart
A flowchart is a way to visually explain a process. Flowcharts are call flow diagrams. A flowchart lays out the different paths a call can go and provides a trail to the next step.
Instead of saying, "If this happens, then _______," a flowchart uses shapes to replace the "if/then" points a call flow. Using shapes for decision points, the flowchart points to the next step in a procedure according to the answer to the question in the shape.
See the example below for processing a refund.
2. Standard article
A call flow designed as a standard article is in your basic word document. Your instructions are written from left to right just as if you were writing a manual, script, or white paper.
The difference is that you would use the formatting tools to help your agents move through a call flow quickly. For example, you would use numbers to indicate the order of operations and indentations to make it easier to find the next steps/answers.
The advantage of standard articles is that you can include screenshots and other images to show your reps what to do. You can point out where they need to click on their computer screen.
Also, these types of call flows allow you to include portions of a script or phrasing you need agents to say verbatim.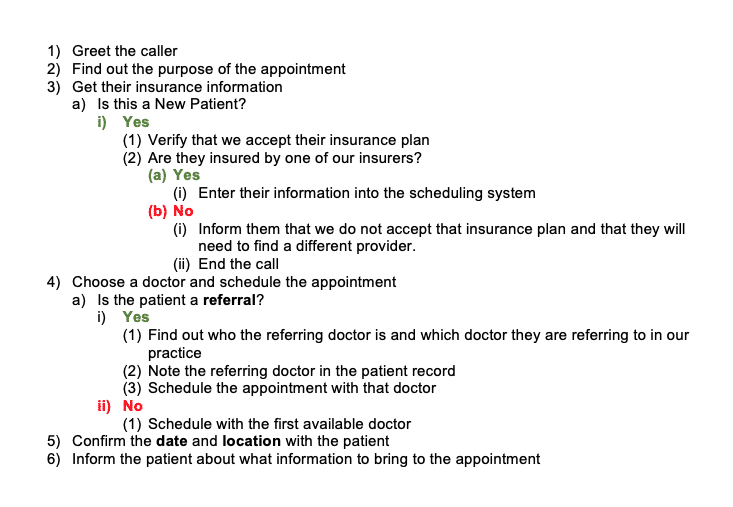 3. Interactive workflow article
Interactive workflow articles are call flows that react to your agents' answers. They provide step-by-step instructions as your employees respond to the questions on the screen.
These call flows are created with cloud-based software. When your agents use interactive workflow articles, it operates more like a website. Often, workflow articles are packaged as part of a larger system like a knowledge base software.
These articles have interactive elements that require your agents to click a button to move to the next step of your call flow. This could include checklists, questions and answers, or other interactive parts to help your agents with a call.
Depending on the software system you use, you can also include portions of a call script in these call flows as well as screenshots and other images.
Below, is a workflow article example from ScreenSteps.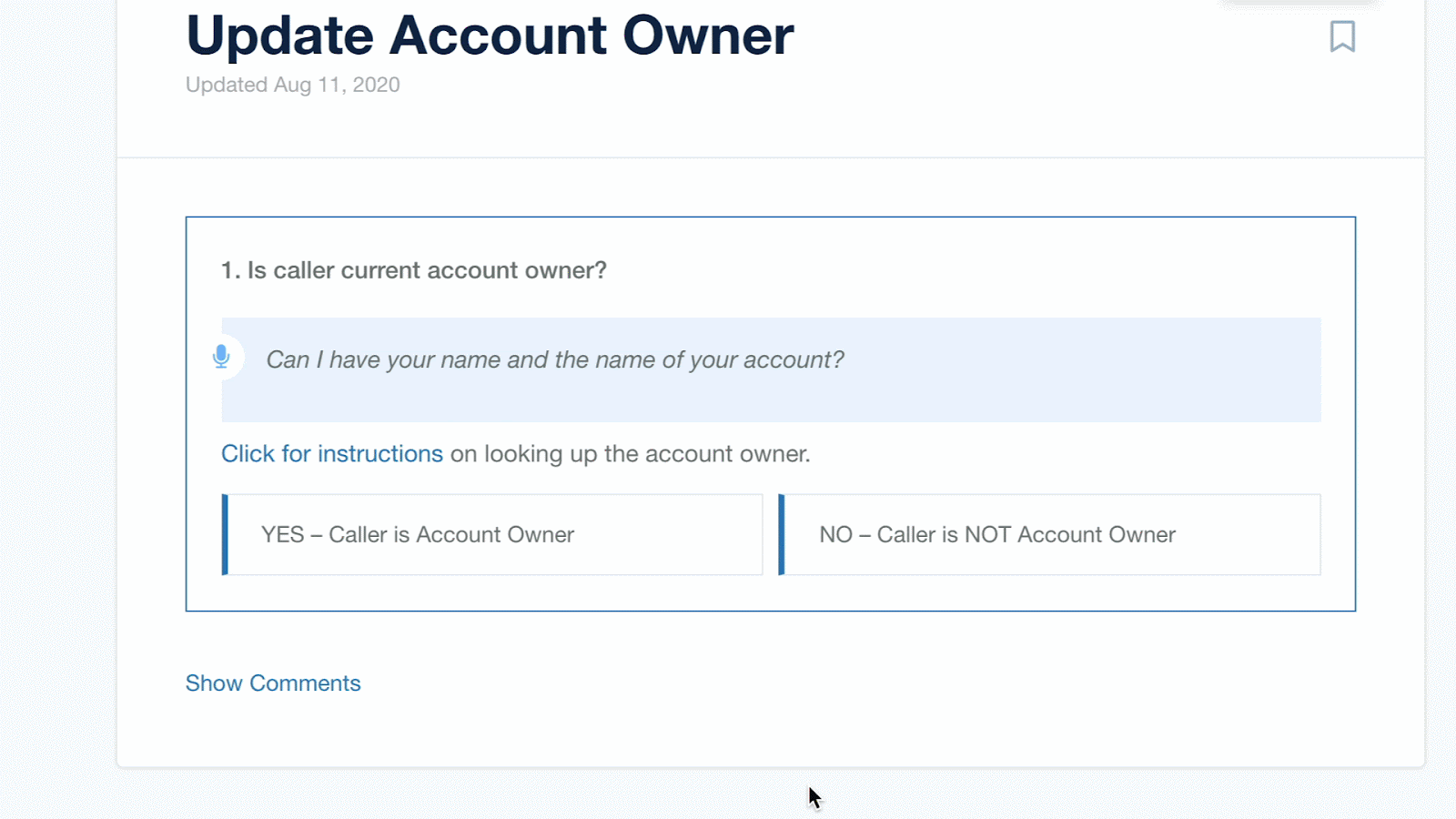 Which call flow design should you use for your call center?
All of these call flow diagramming approaches can be helpful for your call center agents. Unfortunately, you need different software to create these three different types of call flows.
Ideally, you would choose one call flow design for your call center. Why? Because it makes it easier for your call center agents to follow the guides when they are consistent. If they know how to follow the guides, that means they won't spend as much time putting the callers on hold.
So, which call flow design software should you use?
Here are reasons each of the three call flow design options would be a good fit and why they might not be a good option for you.
🔍 Related: How Much Does Call Flow Software Cost? (5 Factors Affecting the Price)
Flowcharts: When to use them for your call flows?
Flowcharts are a great visual way to show your call center reps the steps they need to take in a call. They are a roadmap with decision intersections that help agents ask callers questions in the right order.
Advantages
Using flowcharts for your call center is a good option for you if:
Your agents just need an overview of what order the steps come in
You need something to brainstorm the different outcomes and map the process
You visually need a guide to walk agents through a process
You need help guides for troubleshooting
Shortcomings
If you use a flowchart, there are some limitations:
You can't include click-by-click instructions
It's difficult to include details
You can't include scripts or required statements (for compliance or other reasons)
Not all agents understand how to use them
Not everyone is good at creating them
🔍 Related: How to Make a Flowchart For Your Call Center Agents (5 Best Practices)
Standard articles: When to use them for your call flows?
Standard articles are a common approach to creating call flows. That is most likely because people are most familiar with the software. After all, you've probably used Microsoft Word before in school or at some other point in your life.
Advantages
Some of the reasons you may consider using standard articles to write your call flows include:
It can be less expensive (most companies already have text programs)
Your content creators are probably familiar with the authoring tools
If you use text for your call flow
You can include click-by-click instructions
If you want to include script elements
You can insert tables, charts, screenshots, images, etc.
Shortcomings
While there are many advantages to using standard articles for your call flows, they do have weaknesses. Some of the downfalls of standard articles include:
It's difficult to format complex procedures and call flows
It can be difficult for agents to find these documents
Agents have to scroll to the next steps
Complex procedures can be confusing
🔍 Related: How to write your first call flow if your call center doesn't have documented procedures
Workflow articles: When to use them for your call flows?
Workflow articles are there for your call center agents every step of the call. They respond to the situations your call center agents need by the click of a button.
Advantages
As with the other call flow options, workflow articles have advantages and disadvantages. Some of the strengths of a workflow article are:
It enables employees to complete calls on their own
It helps provide agents the information they need (nothing more, nothing less)
You want to include script elements
You can add screenshots and other images
They help handle complex procedures
They make troubleshooting easier
Shortcomings
Some of the weaknesses of using workflow articles for your call flows include:
Your agents have to learn a new software
It can be more expensive since it isn't usually sold separately
Ready for call flow software that helps you create clear call flows?
Now that you know your options, you can start looking for call flow software to help you write clear and concise call flows to support your agents.
ScreenSteps' knowledge base software allows content creators to write both standard articles and workflow articles for your call center. The simple yet powerful content creation tools make it fast and easy to author call flows that are easy for agents to follow on a call. They won't even need to put callers on hold.
Looking for call flow software that will help make your call center agents' jobs easier?
Before you start comparing call center software, read this article about choosing call flow software. It provides six factors to consider before shopping for your call flow software. That way, you will know exactly what to look for going into your search.