What is Call Center Scripting Software? How Does It Work? (+ Cost)
Have you ever been in a conversation and completely forgotten what you were going to say?
If not, teach me your ways! My mind goes blank more often than I care to admit. Maybe my mind is just so fast that the conversation can't keep up with me (I wish). Or maybe I'm just human.
Having forgetful moments or blanking out the information you've known for a long time happens to everyone. Including your call center agents. This is why memorization isn't always a safe approach to call centers. So, you are considering getting call center scripting software.
Working at ScreenSteps — a knowledge base software company that helps call centers support agents — I've seen how carefully documented policies and procedures can help call center agents make fewer mistakes and improve performance.
Below, is your call center scripting software introduction course. I'll explain what call center scripting software does, how it works, and I'll even provide some alternative search terms that might help you find what you're looking for.
In the end, you'll hopefully know if call center script software is something your call center agents need.
What is call center scripting software?
Call center scripting software is a program that helps guide your call center representatives through a call. Also known as call center script software, scripting software does not need to tell agents what to say verbatim.
Call center script software allows you to write call flows and scripts for your agents to use on a call. Those guides can either be step-by-step instructions or prompts on what to do and say.
Once you write the scripts, you can share them with your call center agents so that they can use them on calls with customers.
The pre-designed guides provide language and phrases to help your agents respond to the caller as well as transition to different parts of a call. A call center script can help your call center agents take control of a call so they can help the caller reach a resolution faster.
Sometimes call center scripting software is included as part of a call center software system. However, the functionality is usually of lower quality because those systems focus more on call routing and distribution.
Call center script vs call flow

Sometimes call center directors and trainers are hesitant to use scripts in their call centers because they fear their agents will sound robotic when reading scripts.

Another way to approach call center scripts is call flows. A call flow is like a script only it uses prompts instead of verbatim language. Plus, you can include call center scripts within your call flow.

Learn more about the similarities and differences of call center scripts vs. call flows here.
How does it work?
Each call center scripting software works differently. However, there are similarities. The software provides authoring tools to help you format and write your call flows and scripts.
Typically, these guides have an interactive element so that they can walk your agents through a procedure on a call step-by-step. The guided workflows are decision trees that help your agents know what to do on a call.
These scripts and call flows are stored in your call center script software. Then agents can access them while they are on calls.
So, how do you present a call script in call center script software? Some common design options you may come across include:
Flowcharts
A flowchart is a decision tree that visually shows a process or procedure. Using different shapes and arrows, agents follow a step-by-step guide.
With call center script software, there is typically an AI element. Whereas, you may have used a PDF flowchart or printed flowchart where you simply follow the arrow according to your choice, the interactive elements of the software allow agents to click on their choice. Then the software presents the next step.
Interactive workflow articles
Interactive workflow articles use questions and answers to lead an agent through a call. The software reacts to your agents' answers by providing them the appropriate next step in a procedure every time they click on an answer.
Below, is an example of an interactive workflow article in ScreenSteps.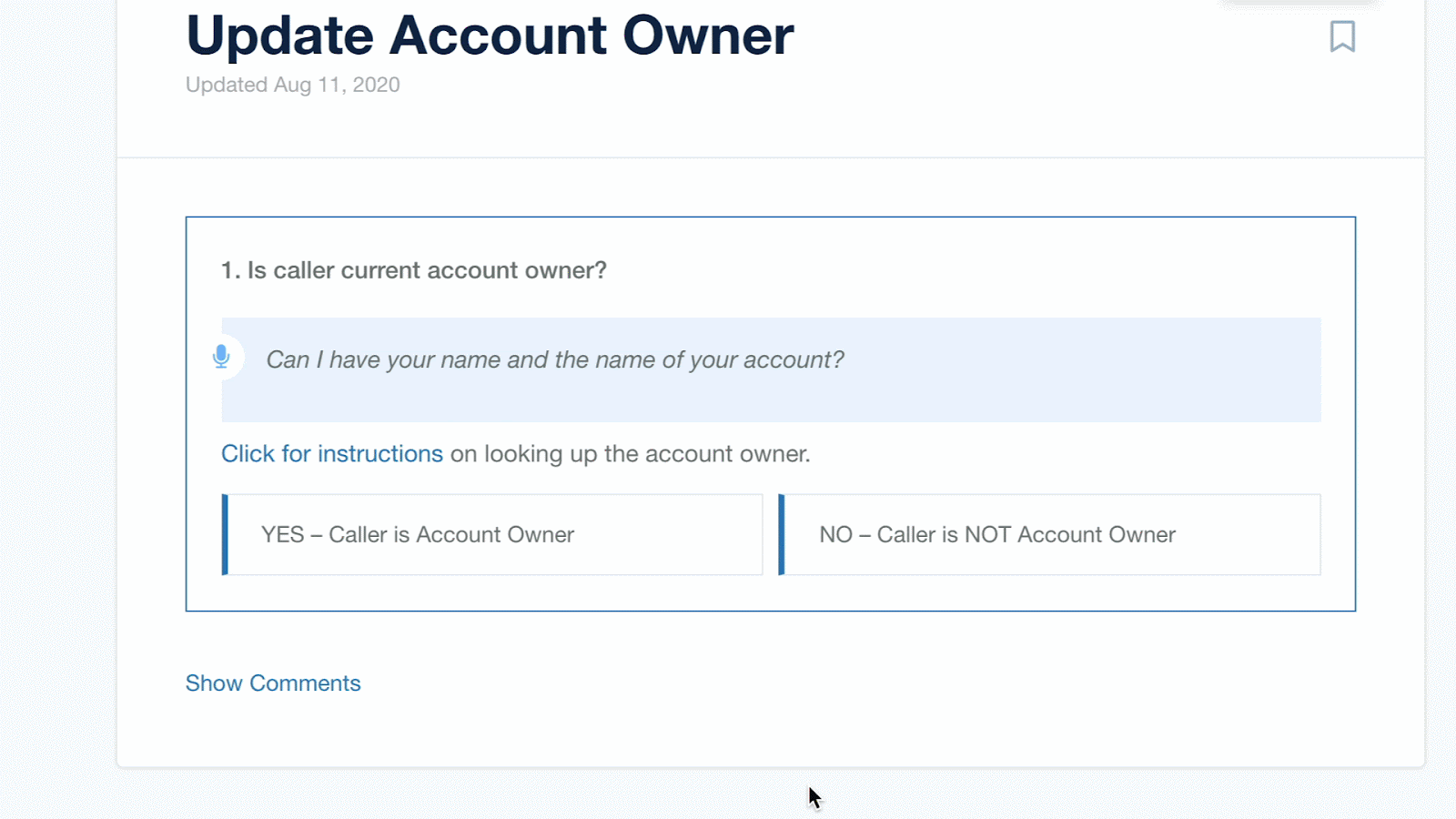 5 types of call center scripts to include in your call center script software
What type of scripts can you put in a call center script software?
At a call center, you have different scripts for different policies and procedures. Plus, you have transitional scripts to keep a call moving. Some types of scripts you could include in your call center script software include:
Intake scripts
Inbound scripts
Outbound scripts
Troubleshooting guides
Compliance scripts
Common features
Call center script software is a cloud-based application so that your agents can access the scripts whether they are in-office or remote.
While every call center scripting software company has different features, here are some universal features:
Decision trees
Authoring tools
Script templates
Ability to use parts of a script (like an intake script) in multiple locations
Collaboration and feedback
Usage analytics
Integrations with other call center software (like CRM)
Note: Not every call center scripting software will have these features or they could function differently. Investigate how these features work with a company's software before purchasing it. Often, call center script software companies offer free trials.
5 benefits to using call center script software
Why use call center scripting software? There are many advantages to using call center script software to support your agents. Here are five benefits of implementing call center script software.
1. Improved agent performance
Agents can work more confidently when they have resources to help them on the calls. Scripts help agents keep the call moving and get things done correctly. Plus, the customers receive a more consistent experience no matter which agent they speak with.
2. Fewer mistakes
When agents are required to memorize procedures, there is more room for human error. They can't remember everything and it is easy to accidentally miss a step when they are handling multiple things while they are on the phone with a customer.
With a script or call flow to reference, your agents won't miss steps. This could save your company large amounts of money if mistakes are costly (i.e. an agent accidentally exchanges a $1,200 medical device that actually still works).
3. Improved KPIs and metrics
Because agents spend less time being stuck on the job (or not knowing what to do), they can achieve better results. There are a lot of metrics to measure for your call center. Call center script software can help lower average hold time, average time to resolution, and more.
4. Maintain compliance
If you are in a heavily regulated industry — like banks, credit unions, or healthcare — compliance is critical for your business. When your agents follow scripts, they can clearly communicate information to maintain compliance. They don't forget to share essential information.
5. Faster onboarding and training
Because call center agents have scripts they can follow for each call, they can spend less time memorizing policies and procedures. Instead, training is about laying the groundwork for your company and learning to use the call center script software. This speeds up the training process.
How much does call center script software cost?
Call center script software costs anywhere from $15/user per month to $99/user per month.
The price of your call center script software is dependent on a few factors. Often companies charge per user, so the number of users (or agents) you have increases the overall cost.
Also, most call center script software companies have multiple plans. With the lowest level plan, you are usually limited on the number of features you can access. At higher-level plans, you have more advanced features.
Alternatives to call center script software
Researching call center script software can be difficult. If you are looking for software where you can write call flows and scripts for your call center agents to use on calls, you may also want to consider using call flow software or a knowledge base software.
Call flow software
Call flow software functions much like call center scripting software in that it prompts your agents on what to do and say. The major difference is that not all call flow software programs allow for heavy text (or scripted portions).
Knowledge base software
Knowledge base software provides your agents with a single source of truth, as your call center script software does. You can write scripts, store resources, and share them with your team. And you even have an option to create a customer-facing knowledge base vs. private knowledge base.
If you go this route, be cautious about the search functionality of the knowledge base. Not all cloud-based knowledge bases are created equal when it comes to accessibility.
Compare software options for call center scripts
With call center script software, you can support your agents so they know what to say and do on every call. There are a lot of call center software options for writing and sharing tips. But, which is right for your company.
Like call center scripting software, a ScreenSteps knowledge base provides your agents quick access to the call flows and scripts they need. Agents can access the right document in as few as two clicks.
The simple yet powerful content authoring tools help you quickly create all flows and scripts that are easy for your agents while they are on a call. Our advanced search functionality makes it so agents can find the script they need without putting a caller on hold.
Use this fair list of some of the best call flow and scripting software available to help begin your search.